The British tech companies at the top of their game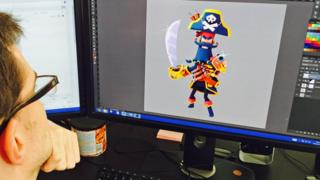 What connects a Victorian house in Leamington Spa with an ugly 1970s office block off London's Old Street roundabout? Each is home to an innovative games studio whose success tells the story of a British industry confident that it can beat the world.
I visited the two companies for Radio 4's World At One, which is marking its 50th anniversary by celebrating some great British success stories.
Genteel Leamington Spa seems an unlikely place to find pirates plotting to seize plunder, but this is where the Midoki company has created its hit game for the iPad and iPhone, Plunder Pirates. The so-called Silicon Spa is one of the UK's leading games clusters, home to firms like Codemasters, Full Fat and Free Style Games.
"We're in Leamington Spa because it's a great hub for game talent," one of Midoki's founders Jon Webb tells me. He came from a local firm and so have most of the dozen employees.
They came together just 18 months ago to create an independent business making what they describe as a mobile build-and-battle game where players amass their band of pirates on an island and aim to become the most feared crew in the world.
And like the pirates, the Midoki crew set out across the world in search of booty when Plunder Pirates launched last summer. The game is free but makes money from players who pay to make things happen faster. That turns out to be a pretty small proportion, but among them are obsessives who spend a lot of money to try to become top pirates.
Jon Webb is cagey about exact numbers of downloads and revenue - not so the company's investor and chairman, games industry veteran Ian Livingstone: "There were two million downloads in the first three days, half of them in China," he tells me. "And it's made over six million dollars in revenue - it's a great export story!"
This kind of independent business was made possible by the arrival of mobile games, where you don't need to have a publisher or be part of a giant company to get your game in front of an audience. But it is still a huge risk, launching an unknown product into a very crowded market. It could have bombed, losing its backers all their money and putting its crew out of work.
Even now, Midoki has to keep refreshing the game on a daily basis, keeping its community of players interested and involved. When I drop in, the team is in the middle of the regular morning meeting, much of which is taken up with reporting progress on the Android version of the game which will be launched soon. The next few months will be crucial - if the Android crowd doesn't take to playing pirates or existing players tire of the game, Midoki will need to create another hit very quickly.
In London's Old Street I find a very different games company, but one which has prospered for many years on a single game. Sports Interactive's Football Manager is a game which is still sold in the form of discs to be played on a computer, just as the rest of the industry is switching to exclusively online sales. Like many of the UK's games firms, it threw its lot in long ago with an overseas owner, Japan's Sega, which gives its managers the financial security to think long term.
Football Manager's fans are loyal, and willing to pay around £30 to play - even the mobile version costs £6.99, one of the most expensive games on the Apple Store. Miles Jacobson, the director of the game, tells me that most players are football fans first rather than hardcore gamers - the aim is to see "whether the person in the pub after the game who tells you he could have done better, really knows it all."
But what makes this game stand out is the science behind it. "We have 1300 scouts around the world, looking at half a million different players," Jacobsen tells me. Wait a minute, I thought - he can't mean real football scouts just for a video game? But he means just that.
Such is the wealth of the data accumulated by Football Manager that it has done a deal to license it back to the football industry software business ProZone. This means that real managers at real clubs can now use the same data which creates the virtual games inside Football Manager to assess real players.
Artificial intelligence is also being employed to chew through that data as players manage their teams across the season. "The AI we have here," explains Jacobson, "is the driving force behind the game and its believability."
What I find at both Midoki and Sports Interactive are two teams with great confidence in their own abilities and in Britain as a place to make games. That was not the case a few years back when many games firms and developers were heading for Canada to take advantage of tax breaks. Then a long campaign to persuade the government to provide similar tax treatment here paid off.
But Jacobson tells me the other factor is that the view of the industry, in both the City and the media, has been transformed: "Five years ago the idea that Radio 4 would have done a piece on video games would have seemed absurd. We're no longer looked down upon - people's perceptions have changed."
Britain's creative industries, from music to theatre to advertising, have long been recognised as a key economic strength. But it may be the games business, where the arts and sciences come together, which offers the best hope for jobs and exports in the coming years.