Maaxi - will we care for sharing?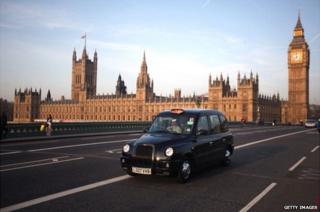 Want an argument with a London taxi driver? Just use the word Uber and you can guarantee the air will turn blue with complaints about unfair competition and the failure of Transport for London to sort it out. But now the controversial Californian car service is facing new competition from an app which the black cab drivers won't be bad mouthing.
That's because Maaxi's strategy is all about giving taxi drivers a better chance of competing with Uber. Its key idea is to use its technology to let customers share a black cab. I shared a ride with the firm's chief executive Gabi Campos and he explained that customers could potentially pay even less than Uber charges. "If you get four people in a cab that can get you close to the rate people pay for public transport," he said.
And he thinks Maaxi will really come into its own during busy periods when Uber's surge pricing takes its fares higher. "Maaxi will decrease prices then because the number of people going in the same direction is quite high and, therefore, we can get people a ride for a quarter of the price on a black cab meter, whereas Uber will charge more than a cab."
The trouble is Maaxi will depend for its success on a triple network effect - it needs enough drivers, enough customers and enough people all heading in the same direction and wanting to share a cab. It sounds to me as if it may struggle on all three counts.
We first reported on Maaxi last October when it was apparently on the verge of launching. It seemed to be well-funded, with generous backing from its co-founder Nat Rothschild and it had the political muscle of the Licensed Taxi Drivers Association behind it. Then nothing happened for a long time.
Explaining the delays, Gabi Campos talks about the technology. "It was a matter of getting it right, making it effortless for the customer." But even after six months of marketing to the taxi trade by their own association, only around 10% of London's 25,000 cab drivers have signed up.
That makes it a much smaller force than Hailo, which fell out with cabbies last year when it said it would offer minicabs as well as taxis, but seems to be winning some of them back. And if Maaxi's cab-sharing concept is slow to get going - or simply doesn't appeal to taxi customers - then it will offer the same product as Hailo with fewer cabs on the road.
Meanwhile, there's yet more competition in the form of another app Splyt, which aims to get minicab customers sharing a ride. It's launched this week with a 99p a ride offer and its founder Phillipp Mintchin admits it needs to get a lot of customers on board fast if the idea is to work. "What we intend to do this week," he told me "is to get the Splyt app on everyone's phone." He also needs lots of drivers, and when I visited the Splyt office, plenty were queuing to sign up, collecting a tablet computer to help them in the complex process of organising shared rides.
For both Maaxi and Splyt, the question is whether they can make any kind of impact on Uber, the global giant of rides-by-app. Jo Bertram, who runs Uber in the UK, seemed relaxed about the new competition when I met her in the London offices which the firm is about to outgrow. She claimed that growth was actually accelerating. "Competition is good for the consumer and good for the driver," she said.
What is clear is that Uber has driven a big increase in the number of minicabs on the road. The regulator TFL says there are more than 77,000 licensed private hire drivers in London now, up from 52,000 last year. But are they happy in their work? A glance at an Uber drivers' forum shows quite a few complaints about how hard it is to make a decent living when supply of cars exceeds demand.
And when we chatted to Orhan, a driver who once worked with Uber and is now with Splyt, we got a very negative picture. "It's a disaster for everyone - income for drivers has gone downhill like crazy. Whether it's a minicab driver, black cab driver, Splyt driver, Uber driver, it's very bad news."
Now, other drivers we met in a day using London's various taxi apps seemed happy enough with their lot. But the disruptive impact of new technology is transforming the way we get around cities, and while that provides more choice for consumers, not everyone is convinced it is improving our lives.