Japan shares down despite US gains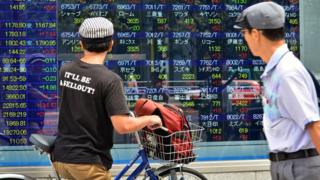 Japanese stocks fell on Wednesday despite gains on the US markets following a testimony by the US Federal Reserve's Janet Yellen.
The head of the US central bank said the US economy faced uncertainty, but that a recession was unlikely.
Unimpressed by the gains on Wall Street, Tokyo's Nikkei 225 index fell by 0.6% to close at 16,065.72 points.
The region's second largest market, Hong Kong's Hang Seng, closed 0.6% higher at 20,795.12.
In mainland China, the Shanghai Composite ended 0.9% higher at 2,905.55 points.
In South Korea, the Kospi index rose by 0.4% to finish at 1,992.59.
Australia's ASX 200 ended the day flat at 5,270.90.