Duke of Kent visits Scots Guards troops in Afghanistan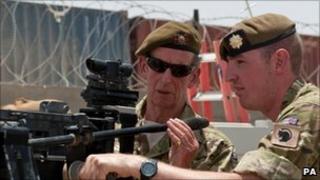 The Duke of Kent has made a surprise visit to frontline troops in Afghanistan, it has been revealed.
The Ministry of Defence said the Scots Guards were visited by the duke, who is the Colonel of the Regiment, this week.
The Queen's cousin toured the main British military base of Camp Bastion, visited Lashkar Gah and inspected a remote check point.
Lt Col Lincoln Jopp, commanding officer of the 1st Battalion Scots Guards, said it was "tremendous" the duke visited.
He added: "He is such a huge supporter of the Regiment and has recently visited our families back in Catterick and our casualties in Selly Oak, so to get him out here to see the Guardsmen is fantastic."
"Nothing was going to stand in his way of seeing his men on operations."
The Scots Guards have been deployed to Afghanistan since April, where they have been working with the Afghan National Police and Army.
Soldiers from the regiment have also been visited in recent weeks by Prime Minister David Cameron, Defence Secretary Dr Liam Fox and David Beckham.