Newspapers focus on unions' attacks on cuts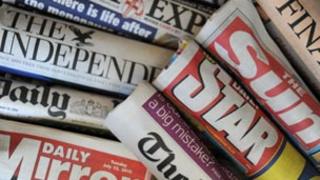 Warnings by trade union leaders that they intend to fight the public spending cuts with a campaign of co-ordinated action lead many newspapers.
"Are we heading for another winter of discontent?" asks the Independent.
The Times says union leaders have set themselves on a collision course with the government.
Meanwhile the Guardian reports GMB union research that councils, courts, hospital trusts and police are laying off workers already.
'Special relationship'
Cuts to the Army are the Sun's main story, in a "Betrayal of our heroes".
It says leaked army documents reveal a plan for servicemen to be secretly selected for redundancy while fighting in Afghanistan.
The Daily Telegraph says the Pentagon has warned the government inflicting deep cuts on the armed forces could threaten the special relationship between the UK and US.
Officials are concerned cuts could widen a military power divide, it says.
Palin power
The Daily Mail leads on claims of lavish expenses by executives at the Commonwealth Development Corporation.
"Sure is fun," it says, pointing out that most people will never have heard of the organisation before.
The Guardian believes former Republican Vice Presidential candidate Sarah Palin is showing signs she is ready to run for the White House in 2012.
It cites her plan to speak at a dinner in the politically crucial state of Iowa later this week as evidence.
Housing benefits
The Independent reports the council in Lymington, Hampshire - which it says is known as "too posh for Argos" - has rejected a planning application by pubs chain JD Wetherspoons.
"Is this the snootiest place in Britain - or just the most discerning?" it asks.
Finally the Daily Express is outraged by soaring housing benefits.
It raises fears the bill will hit £30bn a year and says only radical cuts can avoid the huge burden by 2020.