Newspaper review: Rebekah Brooks arrest under scrutiny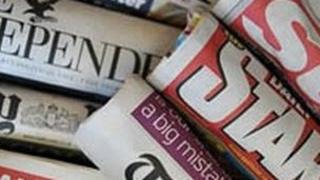 The news that the ex-chief executive of News International, Rebekah Brooks, is facing criminal charges makes many newspaper front pages.
The Guardian leads on what it calls her defiant attack on the decision to charge her with perverting the course of justice.
The Independent has her on its front page with the caption "The Accused".
The Daily Mirror feels this development is bound to heap further political embarrassment on the prime minister.
The Independent reports that government plans to reduce Disability Living Allowance paid to thousands of blind people have sparked a revolt among Liberal Democrat MPs.
Drugs wait
David Cameron is considering billions of pounds of extra welfare cuts, according to the Daily Telegraph.
The plans, which include a crackdown on housing benefit, were laid out in a confidential policy paper.
It says another £25bn can be cut off the welfare budget.
The Daily Mail reports that patients can wait for up to nine years for the NHS to approve new drugs to treat Alzheimer's and cancer.
The Daily Express says the pound has reached its highest level against the euro for three-and-a-half years.
And it strengthened against 80% of the world's currencies over the past year.
Pyjama party?
The Financial Times says officials in Brussels are pushing to give shareholders in Europe's listed companies a binding vote on pay.
For readers whose leisure pursuits include a weekly book club, the Mail reports on the pitfalls to beware.
It says the top tip is to ban over-opinionated friends from discussions.
The Telegraph reports that officials at Brasenose college in Oxford have complained that "slovenly" undergraduates have been arriving for morning meals in pyjamas.
But one student tells the paper fewer people will go to breakfast if they cannot wear pyjamas.