Papal visit makes headlines in the Sunday papers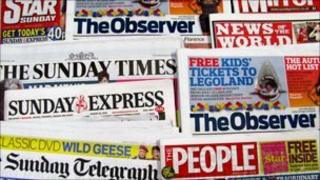 The Pope's continuing visit to Britain remains the main topic for many of the nation's newspapers.
The Independent on Sunday focuses on a new poll conducted by YouGov.
It suggests seven out of 10 British Catholics believe women should have the right to choose whether to have an abortion.
The paper says the survey also suggests nine out of 10 Catholic worshippers support the wide availability of contraception.
'Listen and learn'
The Sunday Times reports that David Cameron will use a farewell address to the Popeto stress that faith is part of the fabric of this country.
He will also seek to allay the Pope's warning to the Queen that "multicultural" Britain is in danger of losing its Christian heritage.
The softly spoken Benedict has charmed many, according to the Observer.
But it says the true success of the trip will be judged by "Pope Benedict's own willingness to listen and learn".
The Sunday Times reports on the incoming head of the armed forces, General Sir David Richards.
It says he persuaded the prime minister to spare 20,000 soldiers from the Treasury axe after convincing him they are vital for the Afghanistan conflict.
Tax strike
The Observer carries an interview with the Liberal Democrat leader Nick Clegg.
He appeals to doubters in his party to embrace the coalition which he predicts will become a 'great, reforming government".
The Sunday Telegraph says a raft of health and safety legislation could be "swept away" by the government.
The paper describes it as a "blitz on the compensation culture".
The Mail on Sunday claims ministers are secretly recruiting city experts to break an expected strike by tax collectors.
The paper says Treasury ministers, who are drawing up plans to cut a number of its staff, fear the move could trigger a mass walk-out.