Fighting back after trauma of sex case collapse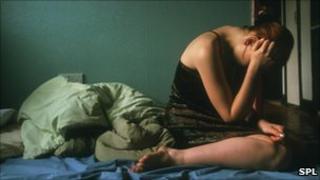 It was at the end of a birthday party at a house in south London that Josephine says she was the victim of a serious sexual assault.
She was in her twenties and had been, in her words, a happy outgoing young woman.
She describes how what happened to her that night, and the way she was subsequently treated by the criminal justice system, left her suicidal.
She has been diagnosed as suffering from post traumatic stress disorder. "I have lost my twenties through this," she says.
'Time pressure'
In March 2009 she arrived at court to give evidence against the man who she had named to police as her attacker. She did not want to have to face him, and had been promised that she would be able to give evidence from behind a screen.
But there was no screen. In a BBC interview Josephine said: "I just thought 'why is it all falling apart?' All they seemed to be concerned about was that the court was waiting. That seemed to be their major concern, time pressure."
She describes how the prosecution barrister seemed pre-occupied and in a hurry to get away. So she went into the witness box, petrified, as she faced the man she was accusing.
She told the court that she had decided to testify against him because she had heard he was in prison for another offence.
As someone not familiar with the courts process, she did not realise that the jury are not supposed to hear claims in this way about the accused. It prejudices someone's chance of having a fair trial.
At the end of that day, she was told that the trial would have to be halted.
Case 'dead'
Josephine assumed the man would face a new trial. She subsequently learned that the Crown Prosecution Service had decided not to offer any evidence against him and he was acquitted.
Josephine said: "I phoned the CPS, I think, 14 or 15 times. I could not get anybody on the other end of the phone. I was told by one of the staff at the CPS that the case was dead. He repeated it up to about seven times.
"Over the phone we were told that the only way there would be a retrial was if the guy did it to me again. "
"We eventually got a letter from the case worker who was in charge of my case. And it squarely blamed me for the collapse of the trial. It said that even giving my evidence I was implausible."
And this is when she became suicidal. She says: "If you put your faith in the system, and then it falls apart that is bad enough but then to be blamed for it, it just leaves you feeling completely worthless that nobody cares.
"And if you are not worth anything, then what is the point in being here."
But despite her depression, she did fight back. She went to lawyer Tony Murphy, of the London law firm Bhatt Murphy.
He began legal proceedings against the Director of Public Prosecutions for England and Wales. The case went to mediation and the Crown Prosecution Service settled out of court.
The CPS acknowledged it had breached Josephine's human rights in the way it had dealt with her case, and it agreed to pay her £16,000, believed to be a record amount for such a case.
CPS apology
In a letter of apology, Alison Saunders, the chief Crown prosecutor for London, says the man should have faced a retrial and describes Josephine as an entirely reliable, honest and plausible person.
Her lawyer, Tony Murphy says: "This case shines a light on how the Crown Prosecution Service prosecute crimes of sexual violence and it reveals an alarming lack of will and skill on behalf of the prosecutors in this case.
"The apology is an important acknowledgement of all my client has suffered. However, it's vital that the CPS put their word into deeds to ensure that other survivors of sexual violence are protected."
And subsequent to Alison Saunders' apology, the Director of Public Prosecutions for England and Wales, Keir Starmer QC, has expressed his alarm.
In a statement he said: "I am very sorry for the distress these failings have caused the complainant. I am determined this will not happen again."
Josephine says she welcomes this apology from the top, and hopes the DPP will bring about a culture change in the criminal justice system so that future victims are properly protected.