Newspaper review: Papers ponder David's future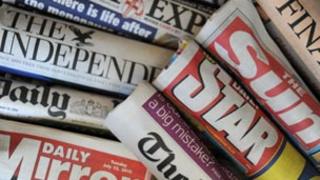 While it is the victor who has his picture on the front pages, it is the fate of the vanquished that attracts the most fascination.
As the Financial Times says: "The focus now falls on the brother who lost."
The question posed by the Guardian's headline is: "Miliband pledges to lead from the front - but will his brother follow?"
The Sun says Labour's new leader faces his first "Ed-ache" - his brother who may quit front line politics.
Illegal market
The Times, Guardian and Independent have special reports from the North Korean capital, Pyongyang.
It is on the eve of a conference of the ruling party which is expected to pave the way for a new leadership.
The Independent's correspondent was arrested after infiltrating an illegal market.
These markets, writes David McNeill, are illicit because they strike at the heart of the official claim that the leadership will provide all.
Wall stunt
Several papers have reports and pictures of the front door of a branch of Barclays Bank bricked up in protest at the banks' unwillingness to lend.
The Daily Express says a property developer in Bournemouth pulled off the stunt after being turned down for a loan to expand his business.
According to the Daily Mail, he was joined by other business owners.
The Daily Mirror says the wall was taken down after police threatened to arrest them.
Cultural awareness
The Daily Telegraph reports that Barnet Council in north London has banned its staff from using mother-in-law jokes.
A booklet on cultural awareness stated they were not only sexist but could be "offensive on the grounds that they disrespect elders or parents".
The paper says the earliest known reference to the jokes was by Roman poet Juvenal in the first century AD.
He declared: "It's impossible to be happy while one's mother-in-law is still alive."