Scrubbing up: Your comments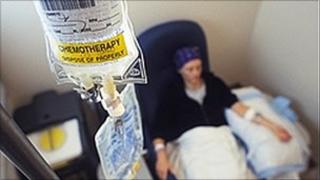 Millions of people now survive cancer, thanks to better detection and treatment.
But this is placing an ever-growing demand on the NHS system that deals with these patients' aftercare and checks.
In this week's Scrubbing Up, cancer expert Professor Jane Maher says the current system is wasteful, ineffective and not the best way to spot many recurrent cancers.
BBC News website readers have been sending in their comments.
Your comments
I only felt tired but it transpired I needed a colonic cancer operation. After it, some months later, I required a post-operational hernia operation. Next, my stomach felt bad, but after an IT scan I was told nothing could be done about it. Just before that consultation I had to fill in a form regarding symptoms. That resulted in a 20 minute phone call from hospital. The caller told me she would consult other doctors then phone me back that day. A psychologist phoned me telling me I seemed a bit depressed, but she could do nothing for me since I had not scored enough points on the form. I now feel physically and mentally worse than before the cancer operation, and nobody in the hospital wants to bother about me.
John, Tayport, Fife
Jane is correct in her assumption. I am a 'cancer survivor' and after recovering from Non Hodgkins Lymphoma with over 20 chemotherapies, stem cell transplant and three weeks of radiotherapy coming out the other end has been probably the hardest time for me and my family. I know that there are processes underway to develop 'key workers' - particularly in Wales, but the void that you find yourself in after you have the all clear is enormous. At present, there are no support mechanisms in place to help survivors with the transition they need to go through and more recently, knowledge of 'late effects' of treatment is also being brought to the fore. These late effects are fundamental to the survivor, and not being made aware of them during and after the treatment phase is very worrying.
Peter, Carmarthenshire
I had an operation to remove a malignant melanoma. Since then I have had regular check-ups at the hospital to check other moles, and lymph glands. These appointments are often cancelled and new appointments made later. My most recent appointment was cancelled twice, and so instead of having a check-up on 7 September I am having a check-up appointment on 7 December. I am concerned at the further three month wait, so I have made an appointment to see the consultant privately at a private hospital. I am not buying my way into the NHS. This appointment is for 22 October. Skin cancer can lead to other cancers, yet it is only my lymph glands which are checked in a rather casual fashion. I am concerned that the cancer may have spread elsewhere, but other areas of my body are not checked. It seems to me that there is no joined up thinking across the specialisms - I am seen by a dermatologist, but what about a general kind of check up? This could save lives I am sure.
Carole, West Sussex
Over two years ago I went to my GP with a lump on my neck which turned out to be lymphoma. Apart from a fearful two week delay in diagnosis when a pathologist was on holiday, I feel I have received excellent treatment at Addenbrookes Hospital. Two years later I go for regular check-ups and have been told by the doctors what to look out for. The NHS is not quite perfect, but I can not think that I would receive better treatment anywhere else on the planet.
Duncan, Cambridgeshire
I had cancer at 29. I'm now 31 and in remission but can honestly say that I am probably more affected by the after effects and the mental stress of it coming back! I would hate it if the NHS stopped my regular check-ups as these check-ups that, thank god, have so far been coming back as clear, are what keeps me sane and hopeful!
Sarah, Prudhoe
Very efficient when discovered by accident, tumour removed and part of lung within six weeks. No chemo or radiotherapy, two six month check-ups and now yearly. I have a breathing test and x-ray. Told to contact hospital if having breathing difficulties or coughing blood.
Penelope, Weir, Lancashire
I had great treatment three years ago - a prompt operation for ovarian cancer, four months of chemo and remission since then. Check-ups have been irregular, but I can get CA-125 tests through my GP, which reassures me. However, I have had severe back pains and live in dread of recurrence. I have just been diagnosed with osteoporosis and am now on weekly medication for this, caused, I'm told by the chemo. Having osteoporosis is better than dying of cancer, but I wish I'd known there was a risk.
Pattipan, South Devon
I have survived lung cancer twice. A terminal diagnosis of small cell in 1993 and then non-small cell in 2007. After my second diagnosis in 2007 I refused yearly follow-ups. Based on previous experience it was to me a waste of a consulant's time. On follow-ups the consultant asks how are you feeling, I reply "fine", he says "any problems?", I reply "no". "Good see you next year". While I had no recurrence of cancer, I had over time problems with depression and mobility. I became a founder member of a local lung cancer support group, run by a qualified Clinical Nurse Specialist, where I found great advice, and the comfort of having a local specialist on tap to address any problems I had. If follow-ups were allocated to a clinical nurse who generally has better people skills, and a wider knowledge of the help and aid available. It would be much more relaxed and more beneficial to the patient while being very cost effective for the NHS.
Robert, Bishopbriggs
The current diagnostic strategy is good, but follow-up is fragmented and dependent on the very people that the government are targeting as the bureaucrats with such contempt. It takes lots of resources to ensure that this is effective for patients. More often these jobs of supporting the consultants administrative needs are low paid. What patients need is access to these services when they need them, and easily. It is the waiting around, phone calls, lack of information, unreturned phone calls, indifference to emotional and mental health arising for the cancer diagnosis, fear and so on that causes deep anxiety and unhappiness, which exacerbates cancer patients. Better training, easy access and transparency is the best thing you can do to make a cancer patient's post-treatment follow up a better place to be.
Diane , Bath
I had emergency bowel cancer operation in August 2008 at Frenchay Hospital and have found the after care back up excellent mostly carried out by Colorectal Practioner Nurses.
C H Billing, Bristol
During treatment for breast cancer, I felt that insufficient attention was given by the NHS to the emotional effects of the disease and the necessary but brutal treatment. Eventually, near the end of my year's treatment, I discovered the counselling services provided by MacMillan. Subsequently, there has been a grudging acknowledgement of ongoing symptoms caused by the initial treatment, but overall, I feel the NHS follow-up is ineffectual. My last appointment involved a half-day off work. The consultant asked me about my last mammogram (hadn't he read the report?), gave the treated breast a perfunctory squeeze and was out of the room in a blink. This is hardly useful follow-up!
H Goddard, Isle of Wight
A very enlightened perspective finally from the cancer care world. I am in remission from lymphatic cancer and whilst my physical care and treatment were second to none, my emotional and psychological wellbeing was ignored both during and post treatment. As the mother of an 18-month-old son at the time I tried to struggle on but the legacy of treatment and coping finally took their toll and resulted in a breakdown nearly three years after treatment was completed. The impact of this was in a way more devestating than the cancer itself and I wonder retrospectively that if a full holistic approach to care and treatment had worked hand in hand, then I would have been spared the psycholigical impact further down the line. Lets join care up and recognise that the physical is not independent of the psychological.
Rachel, Brighton
Have to agree whole heartedly with the article. Had testicular cancer which had spread and I can say I had the best treatment and care from NHS to deal with the cancer. But in the three years since I have had issues which my GP has helped with but within the last year these have now affected my quality of life. Been waiting for a consultant appointment from not one but two specialties (10 month wait in the first referral).
Darren, Bridgend