Release of Aung San Suu Kyi makes Sunday front pages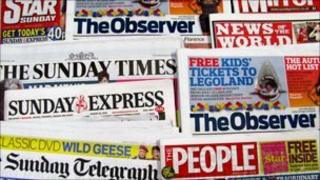 The release of Burma's pro-democracy leader Aung San Suu Kyi makes the headlines in many Sunday newspapers.
The Observer describes her as the "international symbol of peaceful resistance", but warns that Burma is still controlled by its military.
Readers of the Sunday Times are reminded that the last time she was freed, she quickly ran into trouble.
On that occasion, her supporters were attacked by a mob. The paper hopes it will be different this time around.
The Independent on Sunday says that while Aung San Suu Kyi's release is hugely welcomed, it does not necessarily mean change for Burma.
The Mail on Sunday claims Buckingham Palace helped the Conservatives and Liberal Democrats keep Gordon Brown in Downing Street in the days after he lost the general election.
It says this was to enable the Tories and Lib Dems time to seal an alliance.
It adds that this was done to avoid any constitutional crisis for the Queen.
'Transplant shock'
Cuts to the legal aid budget are predicted in the Sunday Telegraph.
It says the government is just days away from announcing £300m of cutbacks that will reduce the number of people entitled to the assistance.
The Sunday Times also reports on the story, saying it will mean parents of special needs children will lose legal aid to challenge how they are educated.
Also in the Sunday Times, it reports that a shortage of lung donors is having unforeseen consequences.
The Sunday Times says the shortage of lungs for NHS transplants has forced surgeons to use the lungs of 20-a-day cigarette smokers.
It adds that the lungs are being given to desperate patients who could otherwise die waiting for a transplant.
Finally, the Mail on Sunday reports some unflattering comments about the UK by actress Dame Helen Mirren.
She's quoted as telling the French magazine, Paris Match, that modern British society is angry and cruel.