Dirty bomb fears for fire officer at 7/7 Edgware Rd blast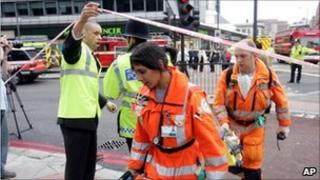 Fears of a "dirty" bomb led to a long delay before fire crews were allowed to help casualties from the 7 July 2005 London bombings, an inquest has heard.
A fire officer said he thought a blast at Edgware Road underground station could have been caused by a chemical, biological or radiological device.
The inquest also heard that paramedics on a training course were not allowed to be sent to treat survivors.
Fifty-two people were killed by suicide bombers on three Tubes and a bus.
The ringleader of the 7/7 attacks, Mohammad Sidique Khan, killed himself and six others when he detonated his home-made device on a westbound Circle Line train at Edgware Road station on 7 July 2005.
London Fire Brigade assistant divisional officer Alan Davies, who in 2005 was manager of Paddington fire station, was among those giving evidence at the inquest.
He said he had refused to allow his men down to the Edgware Tube tunnel at first because of concerns that a chemical, biological, radiological or nuclear (CBRN) device might have been used.
"My training had told me to expect CBRN at a terrorist incident and I just didn't want to flood the platform with personnel," he said.
The inquest heard that some firefighters demanded to be allowed to go down to the train.
"I said: 'We're not going down yet, I need to get further information on, first of all, what type of incident it is as regards CBRN and, secondly, what our role is going to be down there,'" Mr Davies added.
Available crews
Hugo Keith QC, counsel to the inquests, asked if he now believed there was too long a delay before firefighters were sent down the tunnel.
The firefighter replied: "If I had known at the time that there was not any chance that it was a dirty bomb, I would have committed a recce [reconnaissance] crew virtually straight away."
Mr Keith suggested that police and paramedics went down to the bombed train before they had clarified that there was no CBRN risk.
Mr Davies replied: "They did."
The hearing was also told how Peter Swan was in charge of the emergency medical response to the attack on a train at Edgware Road Tube station.
He said he "could have done with some more ambulances".
Mr Swan, who was then acting duty station officer at St John's Wood ambulance station and in charge of 120 staff, became "silver" commander in charge of the medical response at the scene.
He said he asked for paramedics on a training course in Fulham that day to be reassigned to treat the wounded at Edgware Road, but they were not sent.
He told the hearing: "I think there came a point where we were managing the incident with the resources we had."
Medical issues
Ben Hay, another counsel to the inquests, asked him: "That sounds like making do rather than feeling that you had enough resources to cope properly?"
Mr Swan replied: "We could have done with some more resources, yes."
He also said that did not know paramedics based at nearby Park Royal and Willesden ambulance stations were available, but were not sent to help.
The inquest heard of concerns that doctors and nurses sent to help from a nearby hospital were not suitably trained and might even have hindered the effort.
Helicopter Emergency Medical Service paramedic Lee Parker wrote in a debrief form: "I cannot understand why local crews (Park Royal, Willesden) were not used.
"Due to the number of casualties involved, we had to utilise various medical staff who ended up creating more work as they did not understand triage and/or major incident procedures.
"Other medical staff should be kept as far away as possible from these incidents."
Mr Swan told the hearing: "From my position on the day as silver [commander], I wasn't aware of that."