Pirate-hunting warship receives praise from the Queen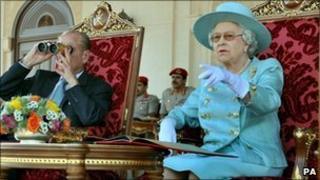 A pirate-hunting British frigate has been praised by the Queen during her state visit to the Gulf.
HMS Cornwall is on a six-month deployment to the region to protect shipping in the area.
The ship's captain, Commander David Wilkinson, met the Queen at the official residence of Britain's ambassador to Oman.
The Queen and the Duke of Edinburgh's five-day visit to the Gulf has also included the United Arab Emirates.
The royal couple were joined by Foreign Secretary William Hague and his wife Ffion in the grounds of ambassador Dr Noel Guckian's home in the capital Muscat, overlooking the waters of the Gulf of Oman.
'Royal blessing'
Cdr Wilkinson said: "It's a huge honour being here. We just happened to be in the area as part of our deployment for the protection of international shipping throughout the area.
"The Queen knew all about our operations and I'm very proud to have met her today. Now we can return to operations with her royal blessing."
He added: "Piracy has been around for centuries but what we've got now is a fairly sophisticated business model and what the international community is doing is putting pressure on them - but not putting lives at risk as sometimes hostages are involved."
The Queen and the duke also saw local crafts being demonstrated, including a coppersmith engraving a bowl and a weaver using silver threads to make camel trappings.
The monarch was later treated to an equestrian show at the Aadiyat stadium outside the capital, which is the home of the Oman Royal Cavalry.
The Queen was seated between the duke and Oman's leader Sultan Qaboos.
One of the highlights was traditional horse riding - Rakd Al Ardah - where riders performed tricks including galloping while standing on horses' backs.