Is snow 'whitemare or wonderland', UK papers ponder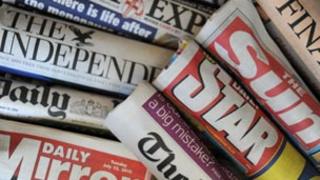 Vast sheets of snow have turned much of the landscape into blank pages and it seems the editors want to write some pertinent questions across them.
There are general observations. "Why can't we cope better?" asks the Sun, while the Daily Telegraph wonders: "Why did we slide into chaos?"
Both the Daily Express and Daily Mail ponder "where were the gritters?"
While the Independent asks "how much economic sense would it make to invest in fleets of snow-clearing equipment?"
Photo opportunity
One thing that a cold snap always provides is a fine photo opportunity.
Across the front of the Daily Telegraph, Reeth in Swaledale glitters in the twilight like a ski resort.
The Daily Mail has a compilation of images which depict "the whitemare.... and the winter wonderland."
A stag, caught in a Highland drift, gazes from the Guardian, while across the window of a snowbound car, pictured by the Daily Star, someone has written: "I'm a car... Get me out of here."
Football frenzy
Those not focused on staying warm - or getting from A to B - seem devoted to the venue of the 2018 World Cup.
"The hopes of the nation" says the Times, "hang in the balance."
The Independent believes "England scent an unlikely victory". The Sun thinks everything is to play for as football's governing body makes up its mind.
Meanwhile, the Daily Mirror puts its faith in David Beckham as the perfect advocate: "No one else can make a better case for football to come home."
More leaks
The Guardian has more material culled from the Wikileaks website.
It devotes nine pages to the story, with US diplomats summing up Moscow as "a sleazy crime-ridden kleptocracy".
The president of Chechnya is glimpsed dancing "clumsily" at a raucous wedding - "his gold plated automatic stuck down the back of his jeans".
Meanwhile, according to the Independent, the man behind the leaks - Julian Assange of Wikileaks - is "known to be in Britain".