Newspaper review: UK 'paranoia' amuses US officials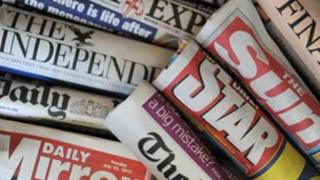 US diplomats' amusement at Britain's perceived "paranoia" over the state of the "special relationship" is revealed in the latest Wikileaks publications.
The Guardian reports that Conservative politicians "lined up" to tell the US they would run a supportive government.
The Daily Telegraph reports Libyan leader Colonel Gaddafi's praise for Wikileaks' exposure of US "hypocrisy".
The Financial Times reports the site's fight to stay online after being dropped by two US technology firms.
'Sicknote police'
Almost one in 10 police officers in England and Wales is on sick leave or limited duty, claims the Times.
Senior police officers blame an "artificial cap" - of six officers per thousand each year - allowed to retire because of ill-health.
Criminals who plead guilty early could have their sentences cut by up to half under reform plans, says the Daily Telegraph.
The paper also reports thieves' use of the Google Earth website to identify churches with lead roofs to steal.
School standards
Poland, Sweden, Holland and Japan are to overtake the UK on school reading, as Britain slips down the education league tables, reports the Daily Mail.
The paper suggests next week's tables will "cast fresh doubt on year-on-year increases in GCSE and A-level grades".
The Independent leads on public health fears as the government "rolls back measures to combat high consumption of junk food, alcohol and cigarettes".
Health Secretary Andrew Lansley has said he wants to "nudge" not "nanny".
Fifa backlash
Some of the papers are still smarting from the result of the Fifa vote for the host country of the 2018 World Cup.
"Bid Fat Liars," announces the Sun, as it names officials who reportedly pledged support to the England bid.
The Daily Mirror brands them the "Fifa fibbers", while body president Sepp Blatter and Russian PM Vladimir Putin are dubbed the "gruesome twosome".
"Both behave like dictators and detest criticism so no wonder they got on like a house on fire," it suggests.