Newspaper review: Pressure grows on Wikileaks founder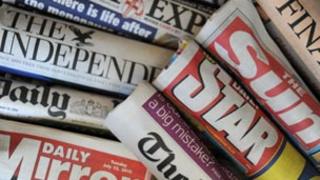 Nine days after the Wikileaks website began releasing secret US diplomatic cables, and the pressure on its founder Julian Assange is intensifying.
The Guardian expects Mr Assange to appear in court in Britain on Tuesday.
His lawyers have announced he will meet police to discuss an extradition warrant from Sweden relating to allegations of sexual assaults.
The paper says Mr Assange appears to be reconciling himself to a lengthy court battle against extradition.
'Licensed extortion'
The Daily Mail quotes Bank of England figures revealing that bank customers are being "crippled" by the highest overdraft charges since records began.
Rates for authorised overdrafts - those agreed in advance - reached just over 19% in October.
The paper says this means the typical customer who goes overdrawn is paying a rate 38 times higher than the base rate of half of one per cent.
The Mail describes this situation as "licensed extortion".
Shopping security
The Daily Star suggests the freezing conditions are threatening to prevent deliveries of Christmas food and even presents arriving in time.
Meanwhile, the Sun claims that SAS "hit squads" are protecting packed shopping centres from terrorists.
The elite troops are said to be in position to foil any Mumbai-style attack on Christmas shoppers.
According to the paper, security was also stepped up at the country's airports over the weekend.
Jail worship
The Daily Telegraph says prisoners who declare themselves to be Pagans are to be allowed time off work for festivals celebrating, among other things, promiscuity and lactating sheep.
New guidelines say Pagan inmates must have the same rights as Christians, Muslims and other worshippers.
But, the Telegraph muses, one holiday during which they are unlikely to be granted full rights is Lammas.
Traditionally, worshippers go on country walks.