Grants awarded to boost number of women playing sport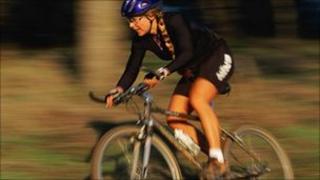 Sport England has awarded 20 sports projects money from a £10m National Lottery fund to help get more women involved in sport.
The projects, which target women from disadvantaged communities and those with children, include netball teams and a national women's cycling network.
Fewer than one in eight women regularly plays sport, compared with one in five men, a Sport England Survey found.
The figure fell to one in 10 in disadvantaged communities.
The Active Women scheme encouraged sports groups, charities and others organisations across the country to develop sporting projects that dealt with barriers to participation in their area.
Sport England chief executive Jennie Price said: "For many women with children or those managing a tight budget, sport - and time to themselves - can slip down the list of priorities.
"The projects we're funding have asked local women what is stopping them from getting involved and what sports interest them, before coming up with an offer that is appealing and accessible."
The projects awarded money include:
More than £1m for Netball in the City - which aims to get more than 12,000 women back on the courts in Bristol, Leeds, London, Manchester, Newcastle, Nottingham and Wolverhampton
A council's domestic violence team will receive £154,509 to run a sports project at Hyndburn in Lancashire to improve the health and self-esteem of women who have suffered abuse
A National Women's Cycling Network will be created thanks to a £992,159 investment which hopes to encourage 80,000 women to get on their bikes
Minister for Sport and the Olympics Hugh Robertson welcomed the announcement, saying the UK had "many fantastic female athletes" but "not enough women participating at sport's grassroots".
"The £10m being invested by Sport England will give women the chance to try out new sports as part of a dedicated programme and hopefully keep them in sport in the future," he said.
Gail Emms, who won World Championship Gold and Olympic Silver medals for badminton, said the projects would make a "big difference" to women.
"As a new mum, I know only too well how difficult it can be to make time for yourself and to get out there and play sport," she added.