UK newspapers focus on ageism case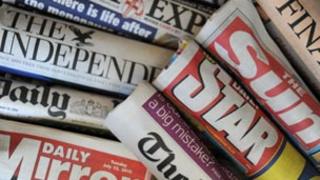 Miriam O'Reilly's victory in her age discrimination case against the BBC makes many front pages of the papers.
The Daily Mail's headline hails her the "woman who beat age bias at BBC".
The Independent says the employment tribunal's ruling gives hope to older presenters and in the Guardian broadcaster Sheena McDonald celebrates her as an age champion.
Meanwhile the Daily Telegraph sends a simple note to the corporation saying "having wrinkles isn't offensive"..
Bank bonuses
Bonuses once again preoccupy the papers, with the Guardian declaring Barclays boss Bob Diamond's appearance before the Commons Treasury Select Committee "the Battle of the Bonuses"..
It was conducted by two tribes, the politicians and the bankers, the Financial Times says, living separate lives two miles apart in the City.
And the winner? Greed, according to the Mail.
The Independent says the message was: "No apologies. No restraint. No shame"..
Tactical manoeuvres
Meanwhile the Daily Mirror urges all bank bosses to exercise restraint and "start living in the real world"..
The Guardian's lead reports Scotland Yard is under pressure to explain whether it authorised an undercover officer to have sexual relationships with environmental activists..
One woman who had a relationship with Pc Mark Kennedy says he may have used sex as a "tactic" to glean intelligence.
Other papers urge MP Eric Illsley to resign for admitting false accounting.
Jobs for Miliband
In the Mirror's view, Mr Illsley should salvage some self-respect by quitting..
Finally, it seems defeated Labour leadership candidate David Miliband has a number of jobs lined up.
The Mail says the former foreign secretary is to become vice chairman of Sunderland football club.
Meanwhile the Guardian reports he is to teach A-level pupils government and politics for one or two hours a week at his old comprehensive school in north London.