Minister suggests 'fast-tracking' police recruits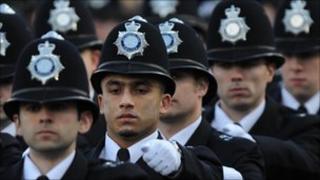 Police forces could be encouraged to introduce a fast track recruitment scheme, a minister has suggested.
Policing Minister Nick Herbert said the idea of making all new recruits join at the lowest rank of constable was no longer "fit for purpose".
He told a national conference: "The service needs to be open, more representative and diverse. It needs to attract the brightest and the best."
Under the current system all officers undergo the same basic training.
All new recruits must also spend a period as a probationary constable or "bobby on the beat".
Opposed to change
The Association of Chief Police Officers (Acpo) opposes a change and says there is already an accelerated promotion scheme which can fast-track graduates and others with experience outside the police.
Former rail regulator Tom Winsor is heading a review into police pay and conditions and is set to present his preliminary findings next month.
The debate comes against the background of government spending cuts. The chairman of the Police Federation, Paul McKeever, told the House of Commons Home Affairs Select Committee on Tuesday there could be 20,000 fewer officers in four years as a result of the cuts.
Many forces have introduced a freeze on recruitment.
Mr Herbert said policing was undergoing "unprecedented change" and he said it was the "right moment" to address whether forces across England and Wales should consider recruiting people who could bypass the usual training and be brought in at a higher level.
Speaking at London's City Hall, Mr Herbert said: "We need a new focus on skills, training and professionalism within the service so it can adjust to the real challenges that confront it.
"It is hard to conclude that the existing recruitment structures are fit for purpose going forward."
The armed forces and the prison service both have more flexible rules.
The Chief Constable of Greater Manchester Police, Peter Fahy, said they should embrace "elitism" but added: "People need the experience of being constables, of using professional discretion on the streets."
The conference was the result of an inquiry into race and faith issues set up by London Mayor Boris Johnson.
The inquiry found that changing the current system would change the profile of the police workforce.
Kit Malthouse, chairman of the Metropolitan Police Authority, said: "There seems to be an insanity in policing in cutting itself off from 90% of the workforce that were not in their early 20s at a particular point of their skills and career development."
The government has commissioned two reviews about police leadership and recruitment.