Government sent warning about riot prison staffing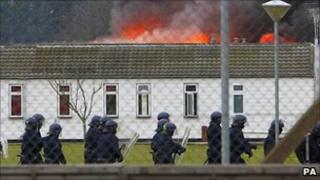 The Ministry of Justice was sent a warning about staffing concerns at an open prison a fortnight before inmates went on the rampage, it has emerged.
The local Independent Monitoring Board - a group of volunteers who carry out checks - also warned about alcohol being smuggled into Ford open prison.
Some 40 inmates rioted at the jail in West Sussex on New Year's Day after officers attempted to breathalyse them.
A government spokesman said no minister had seen the report before the riots.
At the start of the riot, which is estimated to have caused damage that will cost £3m to repair, two officers and four support staff on the night shift were in charge of almost 500 prisoners.
In a report from 16 December which has now been published, Ford's Independent Monitoring Board (IMB) said it had concerns about "minimal" staffing, as well as junior staff - who were only trained to a low level - patrolling alone.
Illicit substances
Charles Pinney, head of the monitoring board, told BBC Radio 4's Today programme that it did not see a riot coming, but did think staff were "too thinly stretched".
He said the board had been told repeatedly that there had never been "a serious incident", but it had been "a bit sceptical about that".
"You are never going to be able to completely fully staff it at night and it would be a waste of money to try to," he said, but added he believed some more staff were certainly needed.
The board's report warned that "drugs, alcohol, mobile telephones and other illicit substances" continued to find their way into the prison, and Mr Pinney said a minor road passing across the site provided an easy route.
"It's very easy for passers-by to leave stuff just outside the fence or throw it over the top," he said.
Mr Pinney said part of the problem at Ford was that the type of inmates there had changed in recent years and in the past had usually been those coming to the end of long sentences, who had spent time in much tougher prisons elsewhere.
"On the whole [those prisoners are] keener to keep their noses clean, to get through the rest of their sentence and to get the benefits of things like going out to work that they're able to do at Ford," he said.
"We're now getting more short-term prisoners. They come in [and] we can't really do a huge amount for them in that length of time.
"They're not feeling that they're lucky to be there and it could be much worse somewhere else."
A spokesman for Justice Secretary Ken Clarke said: "The report was received by officials at the Ministry of Justice on 16 December and was being assessed in the normal way before advice was put forward on how to respond.
"This is entirely in accordance with the standard procedure for handling the 120 IMB reports that are produced each year.
'Totally inadequate'
"The IMB have questioned staffing levels at Ford for several years and levels have been risk assessed, given the population.
"There is a wide-ranging investigation currently under way into events at Ford and staffing levels will be considered within that investigation."
Last week, the Prison Officers Association said only 43 prison staff were in charge of more than 3,000 inmates on a typical night shift at open jails.
Joe Simpson, of the POA, said such numbers were "totally inadequate" and he was surprised unrest at an open prison had not happened sooner.
Earlier this week Mr Clarke told the Commons that lessons must be learned about what happened at Ford.
The National Offender Management Service is carrying out an investigation.