7/7 inquest: Survivor found friend's body after blast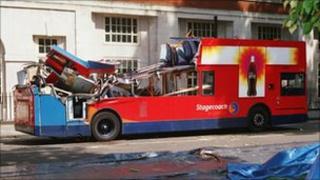 A survivor of the 7 July bus bombing broke down as she told the inquests how she found the body of a friend who died in the attack.
Camille Scott-Bradshaw, from Oswaldtwistle, Lancashire, was blown out of the bus and on to the road by the force of the blast.
Afterwards, she said she recognised the body of colleague Marie Hartley from her hair and a bracelet on her wrist.
A total of 52 people died in four suicide attacks in London in 2005.
Ms Scott-Bradshaw and Ms Hartley had travelled to the capital for a conference when they were caught up in the bombing of the number 30 bus in Tavistock Square.
'Floating'
Giving evidence by video link, she told the inquest she had felt "uneasy" when a fellow passenger mentioned there had been an explosion on the Underground, but "didn't for one minute think that it would affect me".
Nevertheless, she decided to send a text message to her partner and colleagues to tell them she was safe.
Moments later, 18-year-old suicide bomber Hasib Hussain detonated his device.
"I kept thinking, it's a bomb, a bomb, a bomb has gone off, but I couldn't see anything," she said.
"My eyes were just black and I just felt like I was floating through the air."
Ms Scott-Bradshaw said she began searching for Ms Hartley, 34, in the courtyard of the nearby British Medical Association building.
"I asked people if they knew where Marie was... I just remember looking over and I think, in the corner, there were bodies... and I could see Marie. I just knew it was Marie.
"Then someone came along and put a sheet over her. I knew it was Marie because I could see her hair, her bracelet and her arms."
Ms Scott-Bradshaw suffered severe leg injuries and damage to her hearing, but told the inquest she was "very, very lucky" to escape the bombing with her life.
Another passenger who survived the blast told of his ordeal of losing his right leg.
Mark Beck, of east London, was about to get off the bus when the bomb detonated, leaving him "bent double" under a pile of rubble.
He told the inquest he was unable to cry for help because his "sternum had been pushed inside his chest".
"You just presume that someone will know you are there and after a while nobody was coming so I started to panic a bit and then dug around for my foot so that I could release myself," he said.
Taxi driver Scott Kelman, who witnessed the carnage as he drove across Tavistock Square, also gave evidence on Monday.
He said shards of glass and metal flew through a narrow gap in his car window and hit him on the head, just as a body hit the side of his cab on the passenger door.
He described seeing "dead bodies everywhere" and finding survivor Emma Plunkett lying under the wheels of the bus unable to move her legs and struggling to breathe.
"I told her to just breathe slowly and to keep calm," he said.
Another witness, Anthony Stavely, was also driving through Tavistock Square at the time of the blast.
Speaking outside the court, he explained what he had witnessed: "A black flash, smoke going up in the air... then debris coming down and quietness afterwards.
"I got out of the car and everything was very quiet, and there were some bodies lying in the street in front of me."
The driver with the government car service, attached to the Department of Health, had told the inquest he was upset by people who had stopped to take photographs.
The inquests continue.