7/7 inquest: Bus bombing caused 'chimney' of smoke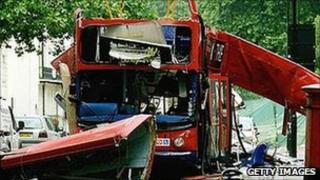 The Tavistock Square bus bombing sent a massive "chimney" of grey smoke billowing into the air, the inquest into the 7/7 victims' deaths has heard.
The cloud rose up to 200ft above the double decker bus in central London.
Pc Gary Sims, of British Transport Police, told the hearing the plume included debris and human body parts.
Bus bomber Hasib Hussain was one of four suicide attackers who killed 52 innocent people on London's public transport network on 7 July 2005.
'Roof came off'
Pc Sims told the hearing at the Royal Courts of Justice in London: "There was a very dark grey-white smoke cloud which went possibly 100 feet to 200 feet up in the air and as that went up... there was a lot of debris and there were unfortunately parts of people in that.
"At the same time the two sides came out from the rear of the bus. Areas came out and curled towards us and at that point the roof came off."
The roof landed in front of the bus, he told the inquests.
British Transport Police's Insp Ciaran Dermody described how he, Pc Sims and Pc Neville Lazenby, watched from an unmarked police car as the bus exploded.
Insp Dermody said the top of the bus appeared to open out before them and thick smoke rose high above it before the roof then "flopped" down.
Sniffer dogs
"We all in the car, I think, said at the same time, 'There's a bomb on the bus.' We knew instantly it was a bomb, we didn't think it was anything else," he said.
Insp Dermody added: "The bus seemed to be compressed down to my height which is 6ft 1in. [The bus] was compressed down and there were a number of people on that top deck of the bus trapped."
The inquests heard that a search of the bus with sniffer dogs was carried out after a box marked "microwave" in a luggage rack caused security fears.
The item, belonging to Gladys Wundowa, 50, from Ilford, Essex, who was one of 13 people killed in the bombing, proved to be harmless. Ms Wundowa worked as a cleaner at University College London.
Hussain, 18, the youngest of the four suicide bombers, detonated his device nearly an hour after explosions on three Tube trains at Aldgate, Edgware Road and Russell Square. In total, more than 700 people were injured.