NHS to benefit from battlefield techniques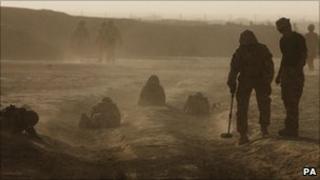 A ground-breaking research centre to enable medical techniques employed on the battlefield to be used on NHS patients has opened in Birmingham.
The National Institute of Health Research will allow military and civilian surgeons and scientists to share expertise and research.
It is hoped to boost survival rates for military personnel and civilians.
The centre is based at the Queen Elizabeth Hospital, where personnel injured in Afghanistan are treated.
Work at the institute, which hopes to improve survival rates for those suffering severe trauma in both civilian and military life, will focus on resuscitation techniques, surgical care after severe injury and fighting wound infections.
About 20,000 people suffer from serious trauma injuries, such as through car crashes, every year in the UK.
Professor Dame Sally Davies, director general of research and development at the Department of Health, said: "It is the first time anyone in the world has put together the NHS, the general care system, with the military and a really first-class university in the interests of improving outcomes for trauma patients."
'Hugely important'
She said the institute could also prove vital in the wake of any future terrorist attack.
"This unit will actually be a centre that can really contribute to looking after casualties, be they from terrorism, road traffic accidents or military trauma," she said.
Military surgeons have built up a reputation for pioneering trauma care because they have to deal with a high number of blast wounds and cope with wound contamination caused by dirt getting into injuries.
Some of the battlefield techniques have already been picked up by the NHS - including the use of tourniquets on patients with bleeding and haemorrhage injuries.
The surgeon general, Surgeon Vice Admiral Philip Raffaelli, said the institute was a "hugely important initiative".
He said focusing on treating military patients in the first vital minutes after injury had led to survival rates increasing considerably in recent years.
There was now a survival rate for military personnel of 26%, in comparison with the 6% average, he said.
The emphasis on surgery had also changed so the priority was to save lives first and perform complex operations when the patient was stable - a technique which was becoming increasingly popular in hospitals, he added.
'Strengthen response'
Some £20m in funding will be made available for the NIHR centre - generated by the Department of Health, the Ministry of Defence, University Hospitals Birmingham and the University of Birmingham.
Health Secretary Andrew Lansley said: "The new NIHR centre will fund world-leading research to help people recover better and faster from severe injuries.
"There have already been significant developments in advanced emergency treatment and transportation but more medical research is needed.
"This investment will help to strengthen the response of health and emergency services to major disasters such as road traffic accidents and terrorist attacks in the future.
"It will also help to make the NHS leaders in the world of trauma care - helping to improve treatment and care in the NHS and around the world."
Julie Moore, chief executive of University Hospitals Birmingham NHS Foundation Trust, also welcomed the centre, saying it would provide "the opportunity to build academic knowledge around pioneering clinical innovations, often performed for the first time to save lives and limbs".