Prince Charles's adviser Sir Michael Peat to leave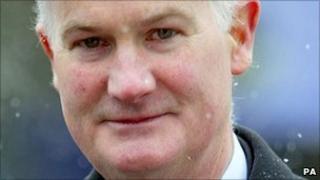 The Prince of Wales' adviser Sir Michael Peat is to step down from his post, Clarence House has announced.
Sir Michael, 61 - a former chartered accountant who has been the prince's aide for nine years - will return to the private sector.
While in the job he helped organise Prince Charles's wedding to the Duchess of Cornwall in 2005.
The aide is the prince's principal private secretary and will stay on until his successor has been found.
The process could take up to a year, said a spokesman for Clarence House.
Sir Michael also led the 2003 investigation into allegations of misconduct within Charles's household, including claims that unwanted royal gifts were being sold off. The inquiry found no evidence of serious wrongdoing.
Speaking of his departure Sir Michael said the Prince of Wales was a "remarkable person", and that the extent of his achievements were "yet to be fully recognised".
"Being part of it has been a life-changing experience - interesting, stimulating, challenging and fulfilling.
"I have learnt a huge amount and will be forever in His Royal Highness' debt; but after nine years the time is right for a change, for their Royal Highnesses' household and for me," he said.
Sir Michael's father was a Privy Purse auditor, as was his great-grandfather William Barclay Peat, who was founding partner of accountancy firm Peat Marwick, which later became the global accountancy company KPMG.
'Hugely grateful'
Educated at Eton and then Trinity College, Oxford, Sir Michael spent two decades in the family business, from 1972 to 1993, before joining the Royal Household.
He was director of Finance and Property Services, HM Household until 1996 then became the Queen's treasurer or Keeper of the Privy Purse from 1996-2002. During his time with the monarch he played a role in cutting royal expenditure.
He became Charles's private secretary in 2002, and then his principal private secretary in 2005.
Clarence House said Sir Michael would continue to carry out investment and financial projects for the prince and provide advice on a part-time basis.
She added: "The Prince of Wales and the Duchess of Cornwall fully understand Sir Michael's wish to return to the private sector, are hugely grateful to him for all he has done and wish him every success in the future."