Egypt unrest watched by UK press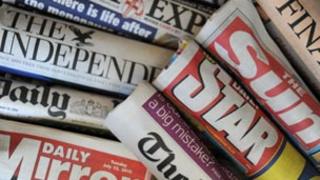 The unrest in Egypt is widely covered in the papers on what the Independent calls the country's "day of reckoning".
After police warned they may be unable to control demonstrations, the Daily Telegraph suggests Egypt "appeared to be on the brink of revolution".
The Financial Times leads on the arrival in Cairo of Nobel laureate and reform advocate Mohamed El Baradei.
He plans to join protests on Friday, and believes the "barrier of fear" has been broken in Egypt, the FT says.
Look after the pennies
News that Chancellor George Osborne is reconsidering the fuel duty rise due in April receives a lukewarm response.
A cautious Sun worries ministers "have been all mouth and no trousers". The Daily Mirror says a cancelled penny of duty will not revive the economy.
The Times reports an "awkwardly timed" joke by Business Secretary Vince Cable.
It asked the difference between finding a dead cat on a motorway and a dead banker on a motorway. The answer: "There were skid marks around the cat."
'Whatever it takes'
In the long-running News of the World phone-hacking scandal, the FT says the paper and police both "still have a lot of explaining to do".
A Guardian editorial says News Corp "has not hitherto been subject to any of the normal scrutiny".
It goes on to quote a former News Corp editor who urges Culture Secretary Jeremy Hunt to mistrust guarantees made as part of the company's bid for BSkyB.
"It will pretty much do or say whatever it takes to achieve its ends," he says.
AOPs OK
The government's plans to sell off publicly-owned forests are branded a "savage attack on Britain's woodland" by the Telegraph's Peter Oborne.
But the Guardian found the proposals "not as terrifying as some had feared".
The Daily Mail introduces its readers to the AOPs - "athletic older persons" - after a study found over-60s are taking more exercise than people in their 20s.
"Yoga-toned Helen Mirren, 65, and lithe Joanna Lumley, 64" are the AOPs' role models, the paper claims.