David Cameron calls for reform in Egypt amid protests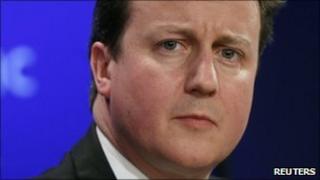 David Cameron has called for reform in Egypt amid anti-government protests in the north African country.
The prime minister said he hoped the violence would stop but it was clear people had "grievances and problems".
Meanwhile, demonstrators gathered at the Egyptian embassy in London in a show of solidarity.
The Foreign Office has advised visitors to avoid the protests in Egypt and "respect any advice or instruction from the local security authorities".
'Stronger democracy'
Mr Cameron said: "I think what we need is reform in Egypt. We support reform and progress in the greater strengthening of their democracy and civil rights and the rule of law.
"Clearly there are grievances that people have and they need to be met and matched.
"I don't think it's in anyone's interest that people are being killed on the streets of Egypt as we speak, and so I hope the violence will cease.
"But clearly, when you have people who have grievances and problems that want them responded to, it's in all our interests that these countries have stronger rule of law, stronger rights, stronger democracy."
More than a million UK citizens visit Egypt annually but the majority head for resorts on the Red Sea coast - a considerable distance from Cairo.
Abta, the organisation formerly known as the Association of British Travel Agents, said it had not heard of any reports of British package tourists being affected by the unrest but said some tour operators had cancelled trips as a precaution.
The Foreign Office said: "People in Cairo or other large cities should follow the news on TV and radio and not to go out in the city centre or other areas where demonstrations are taking place."
Travel firm Thomas Cook said it was following Foreign Office advice and has cancelled all excursions to Cairo this weekend from the Red Sea resorts. But it said flights were operating in and out of Sharm El Sheikh airport as normal this weekend.
British Airways has warned of changes to flight schedules to Cairo because of a curfew imposed in the capital.
'Legitimate grievances'
Foreign Secretary William Hague said he was "concerned" about the situation in Egypt and urged all involved to "refrain from violence".
Mr Hague said: "I think it is important to recognise that the people involved have legitimate grievances - economic grievances and political grievances - and it is very important for the authorities to respond positively to that, and to be able to hold out the hope and prospect of reform in the future.
"That is the answer to this situation, rather than repression. It does not help to suppress people's right to freedom of expression."
Referring to disruption to internet and mobile phone services, Mr Hague said "economic development" and "flexible political systems", rather than suppression, were needed to ease tensions.
Earlier, around 30 people gathered at the Egyptian embassy in London in a show of solidarity with the anti-Mubarak protesters.
The campaigners, many of them London-based expatriates, gathered at the embassy in Mayfair, holding banners and chanting "down with Mubarak".
Hisham Youssef, who lived in Cairo until two months ago, said the group wanted to speak on behalf of people in their country.
He said they were calling for Egypt's president Hosni Mubarak to stand down.
The protester said: "Thirty years of corruption. It used to be a different country. There is no freedom of speech.
"The system has to change, it is time for him to go. We are here to show solidarity with the people in Egypt."