Newspaper review: Anticipation over Mubarak departure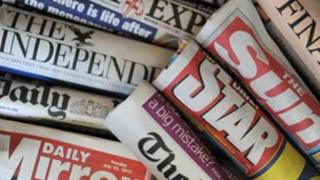 "Mubarak's long goodbye" is how the Times headlines news that the Egyptian president will not be standing for re-election in September.
The Guardian says he has bowed to the inevitable after the US withdrew support for its closest Arab ally.
The front of the Independent is filled with a photo of demonstrators in Cairo.
In the paper's words "secular and devout, rich and poor, they marched together with one goal, to rid Egypt of its least loved dictator".
'Chaos and confusion'
The government's new website mapping crime street-by-street gains comment.
The Daily Mail says some residents were furious when they found their streets were ranked alongside the worst crime zones because of data errors.
The Daily Telegraph points out that a road in Haywards Heath appeared to have abnormally high levels of anti-social behaviour - until it emerged the figures included hoax calls.
In the Sun's opinion, the online maps are a "recipe for chaos and confusion".
'Hell's kitchen'
The Daily Express is alarmed by the latest developments in the controversy about giving prisoners the vote.
The paper is unhappy that ministers have been told they risk being sued for compensation unless they act on the issue in time for this May's elections.
The Daily Mirror's front page has new pictures of a flat in Leeds thought to have been used as a bomb factory for the 7 July 2005 attacks in London.
"Hell's kitchen" is the paper's description of the scene.
Royal bloomers
Doubtless Queen Victoria was not amused by the exploits of someone whom the Daily Telegraph describes as the world's first celebrity stalker.
The intriguing story of 14-year-old Edward Jones has been pieced together by university lecturer Dr Jan Bondeson.
The Daily Mail says even by the standards of modern celebrity culture, Jones went to extraordinary lengths.
The teenager broke into Buckingham Palace three times, sat on the throne and even stole the Queen's bloomers.