Newspaper review: Multiculturalism speech sparks debate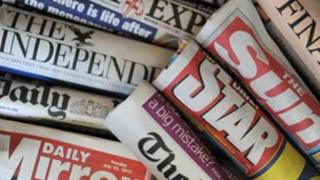 A speech David Cameron is due to make about radicalisation, at a conference in Germany, has sparked much debate.
The Daily Telegraph says the PM will tell UK Muslims they must embrace "core British values", and that everyone must confront, not tolerate, extremism.
The Independent labels it Mr Cameron's "war on multiculturalism", and a radical departure from the strategies of previous governments.
For the Guardian it is a sea-change in the fight against home-grown terrorism..
The papers are quick to highlight the potential significance of the speech.
The Sun - which calls it brave and sensible - also says Mr Cameron "will spark a race debate" with his words..
In the Daily Mirror, Labour's Sadiq Khan accuses Mr Cameron of "writing propaganda material" for the far-right English Defence League.
The Guardian says the PM's aides won't name the groups he is criticising as promoting Islamist extremism because they know it is "highly controversial". .
News that the chief executive of Barclays Bank, Bob Diamond, could get a £9.5m bonus package is front page news for the Financial Times.
It says it will reignite the row about bankers' pay, and quotes Labour MP Chuka Umunna saying the award will anger people who are losing their jobs.
The Sun's editorial - called Piggy Bankers - asks "have they no shame?"
The Independent says the bonus is a slap in the face for the government, which hoped to get bonus levels down.
The Times has Tory MP Paul Maynard, who has cerebral palsy, saying he was mocked by MPs during a Commons debate.
He says they pulled faces at him, and the paper calls it a "scandal".
As papers report the Top Gear apology - for offending the Mexican people - the Daily Star says the presenters will make similar jokes this weekend.
The Independent asks Top Gear to grow up, the Mexicans to rise above it, and the BBC to stop apologising for broadcasts it does not regret.