Newspaper review: Focus on money matters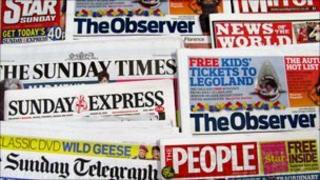 Financial issues have again grabbed the attention of many of the Sunday papers.
The Sunday Telegraph says the prime minister's decision to rule out significant cuts in personal taxation will disappoint those on the right of the Conservative party.
Citing the size of Britain's deficit, Mr Cameron tells the paper that tax cuts now do not "add up".
The PM also declares that he is not interested in giving banks what he calls "a good kick in the pants".
Bankers' bonuses is a subject that is occupying the Independent on Sunday, which has photographs of four bankers and the bonuses they are expected to receive - including one of £9m.
"We're all in this together!" is the sardonic headline.
The Sunday Times reports the Treasury is considering a new levy on "non-doms" - whose status allows them to avoid tax on overseas earnings and assets.
Ministers want to "spread the financial pain", says the paper.
According to the Observer David Cameron has been accused of playing into the hands of right-wing extremists with his speech on multiculturalism.
It says Muslim and anti-fascist groups have questioned the PM's judgement.
The Mail on Sunday reports that a BBC executive, who is in charge of moving staff from London to a new base in Manchester, lives in Kentucky in the US.
It says this raises fresh questions about the use of licence fee money. The BBC said he was not employed directly.
The News of the World is disappointed by the punishments given to the three Pakistan cricketers it accused of taking part in a betting scam.
The paper argues that the men should have been banned for life by the International Cricket Council.
And the Sunday Telegraph reveals that police forces have produced advice for officers out on bike patrol.
West Midlands recommends lip balm to prevent chapping, while the Met advises eating flapjacks for energy.