Church debates decline of weddings and baptisms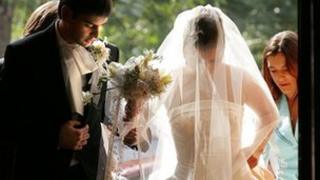 The Church of England's ruling body is to begin a three-day session to discuss ways of making baptism and church weddings more attractive, as their popularity declines.
The General Synod will also debate whether clergy who have divorced and re-married could become bishops.
Plans for new, less formal, wording in baptism services will be on the agenda.
Members will also hear of a campaign to encourage couples to marry in church, and to prevent parishes over-charging.
A proposal will be discussed that would stop some parishes from loading wedding fees with extra costs.
BBC religious affairs correspondent Robert Pigott said the Church had "watched with alarm" as the rates of marriage and baptism have declined in recent decades.
Its share of the weddings that do take place has decreased even more rapidly.
Later in the week Synod members will consider whether or not it is appropriate for clergy who have re-married after being divorced from serving as bishops.
It is accepted that parish priests may be ordained even though they are divorced, but opposition has emerged in some dioceses to bishops being given the same latitude, added our correspondent.