7/7 inquests: Bus chiefs not told of Tube blasts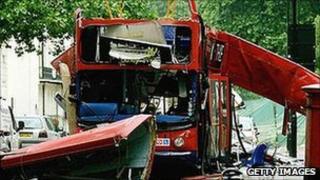 Bus controllers were not told there had been explosions on three Tube trains before a fourth bomb went off, the inquest into the 7/7 attacks has heard.
Tube managers passed only limited information about the blasts on to their colleagues, the hearing was told.
The bombing of a number 30 bus in Tavistock Square, London, came nearly an hour after the Tube bombs in 2005.
The families of the 13 people killed have questioned why London's entire public transport network was not shut.
Four suicide bombers targeted Tube trains at Aldgate, Edgware Road and Russell Square - as well as the number 30 bus - killing a total of 52 passengers.
The findings came when Andrew Barr, London Underground's network co-ordination manager, was questioned about communications between the Tube's network control centre (NCC) and Centrecom, the control room responsible for London's buses, on the day of the bombings.
Hugo Keith QC, counsel to the inquest, said to him: "There isn't very much in terms of the information received from the NCC as to what your thinking was as to the possible cause of the explosions.
"Because they weren't aware until the bomb detonated in Tavistock Square of the explosions."
Training exercises
The inquest also heard that nearly all London Underground's planning for a terrorist incident was based on a single attack.
Mr Barr said: "My previous experience over 20-plus years had been single point attacks at various locations, and indeed we had actually had them."
The court heard shortly before 7/7 Tube managers took part in a training exercise with the Metropolitan Police, looking at how to respond to multiple attacks - as happened in the 2004 Madrid bombings.
"Regrettably, before we had a chance to put that in, these events overtook us," Mr Barr said.
Islamists Mohammed Sidique Khan, 30, Shehzad Tanweer, 22, and Jermaine Lindsay, 19, detonated their devices in co-ordinated attacks on three Tube trains within three minutes of 0850 BST.
London Underground's control room issued a "Code Amber" at about 0918 BST, ordering all Tube drivers to continue to the next station platform and stop.
The entire Tube network was completely evacuated at around 0940 BST.
The last time a network-wide Code Amber was used was in December 1991, when Irish republicans attacked a number of London Underground depots, the inquest was told.
Precaution
It also heard that many Tube workers complained they were not told what was going on 7 July 2005.
One member of staff said they found out more about the attacks by switching on the television than by calling the NCC.
Mr Keith asked Mr Barr: "Would you agree, Mr Barr, that on the morning of July 7 the flow of information to the NCC did not work as well as you might perhaps have expected?"
The senior Tube manager replied: "It was not as good as it should have been."
Mr Barr added that NCC staff were "overwhelmed by the sheer number of calls", some of which they were not able to answer at all.
But he defended London Underground's delay in confirming that the Tube explosions were caused by terrorist bombs.
"Until we actually know, our experience is it's far better to deal with the precaution, far better to deal with the evacuation of customers, rather than sending out a sort of estimate of what we believe the issues are," he said.