Phone hacking at News of the World 'more widespread'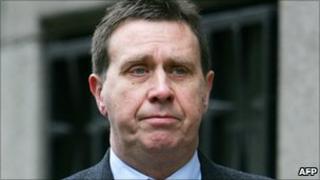 The High Court has seen evidence which suggests phone-hacking may have been more widespread at the News of the World than previously admitted.
It heard a private investigator working for the paper, Glenn Mulcaire, passed information directly to its newsdesk rather than an individual journalist.
It was produced by lawyers for football agent Sky Andrew who is suing the newspaper over alleged hacking.
News Group Newspapers, which publishes the paper, refused to comment.
'Devastating'
At first, the News of the World, News Group Newspapers and owner News International insisted the illegal hacking of mobile phones was only carried out by the paper's royal editor, the so-called rogue reporter Clive Goodman and Glenn Mulcaire, an outside investigator.
That defence was abandoned when a third man, former news editor Ian Edmondson was sacked.
Mr Andrew's lawyers believe information gathered through hacking was handled routinely by the paper's newsdesk.
At the High Court barrister Jeremy Reed read a submission from Mr Mulcaire that he supplied information about Mr Andrew to "the newsdesk at the News of the World" which could have been staffed by "a number of journalists".
Mr Reed said Mr Mulcaire could not even recall who he dealt with.
Mr Andrew's legal team said the evidence was "devastating" and they are asking the court to order the police to hand over more of its evidence.
News Group Newspapers has refused to comment and was not in court to argue whether or not this version of events was accurate.