The Frenchwoman laying down the law in Wales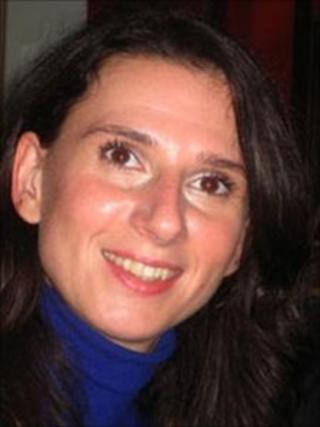 As Wales gets to grips with how the law will change after last week's referendum, the person most likely to be sought for advice is - a Frenchwoman.
After May's elections, the National Assembly for Wales will be allowed to make laws in 20 devolved policy areas without seeking permission from the UK Parliament in Westminster.
According to a senior appeal judge, the two-thirds "yes" vote will simplify the law-making process.
But any queries may well be referred to Marie Navarro, the editor and chief researcher of Wales Legislation Online.
Like everyone in Wales, the judges use this website when they need to find out whether the law in Wales on a particular topic is different from English law.
The database is not run by the judiciary, by the Welsh Assembly Government or by one of the commercial publishers that pride themselves on keeping their subscribers up to date with English law.
It was set up in 1999 by Cardiff University Law School, and is run by Miss Navarro, a French lawyer who came to Wales on a European scholarship 13 years ago and decided to stay.
She studied law at the University of Picardie Jules Verne in Amiens and then at Cardiff Law School. The subject of her postgraduate research degree is The Evolution of Welsh Devolution.
Line-by-line
A heavily pregnant Miss Navarro told Radio 4's Law in Action programme how she has become the world's leading expert on Welsh law.
Whenever the Westminster Parliament publishes a new piece of legislation, she goes through it line-by-line to see which provisions apply to Wales.
It is not easy. Sections headed "England" may apply to Wales as well. She has counted nearly 15 different ways in which various Parliamentary Counsel - the lawyers who draft Acts of Parliament - refer to ministers of the Welsh Assembly Government.
Marie Navarro recalled a case in which a solicitor practising in Wales had been sued for getting the law wrong.
"He relied on a piece of legislation applying to his case but he hadn't checked whether it was a law which applied in England and Wales, in England only or in Wales.
"And, unfortunately for him, it was an England-only piece of legislation."
Appeal judge Lord Justice Thomas told the programme that in some ways the new devolved laws would be beneficial.
Systems 'diverging'
"It will make things easier in the sense that the legislative process is simpler," he said. "But I don't believe it will make the job of a judge, when he has to consider matters of Welsh law, any easier or more difficult."
Lord Justice Thomas, who advises the Lord Chief Justice of England and Wales on developments in Welsh law, says that in the "vast bulk of law that relates to the ordinary business of the courts", there is no difference between the law of England and the law of Wales.
"The difference comes in areas such as education, health and planning, where the systems are now diverging."
And that is a further complication in a system that already relies heavily on European law.
The appeal judge says that many people do not realise how much legislation across the United Kingdom has its origins in regulations, directives or framework decisions that emanate from the European Union.
Accessible law
"What has happened in Wales is that the source of the powers of the Assembly to make law - and its inter-relationship with law made in the Westminster Parliament or by ministers of the Crown - is immensely complicated."
That, he fears, will need clarification and simplification as Welsh devolution develops.
Marie Navarro agrees that the law should be accessible to all.
"It's called the rule of law," she says. "Everybody agrees that there should be a Welsh statute-book. [But] nobody agrees as to who should fund it and be responsible for it."
With titles such as The Nature and Scope of the Legislative Powers of the National Assembly for Wales under her belt, who better to simplify Europe-inspired Welsh law than an English-speaking, Welsh-learning, French-trained lawyer based in Cardiff?
But what will happen when she goes on maternity leave?
Law In Action is on BBC Radio 4 on Tuesday 8 March 2011 at 1600 GMT and Thursday 10 March at 2000 GMT. Listen via the BBC iPlayer or download the podcast.