Judge pledges more consistency in assault sentencing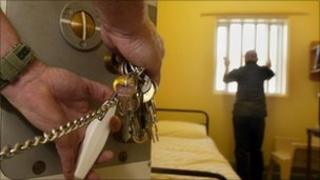 New guidelines on sentencing offenders guilty of assault should ensure there is greater consistency between courts, a senior judge has told the BBC.
Lord Justice Leveson, chairman of the Sentencing Council for England and Wales, spoke on BBC Radio 5 Live.
He said there would be more emphasis on the harm caused to the victim, and the culpability of the offender.
The guidelines are expected to be issued next week and come into force in June, after judges have had training.
Sentencing guidelines for assault offences are currently based on a description of the offence.
He said new guidelines should be simpler for people to understand, and result in less inconsistency.
Lord Justice Leveson said: "For judges, the aim is to increase the consistency of approach to sentencing so that offenders receive the same approach whether they're being sentenced in Bristol, Birmingham, Bolton or Basildon. And hopefully therefore, a greater consistency of outcome."
During the interview, Lord Justice Leveson also spoke about the decision to fine a man £50 for burning poppies during an Armistice Day event.
The case has prompted much criticism from the newspapers and military charities who said the punishment was far too lenient.
Lord Justice Leveson said: "[The judge] had to balance the insult caused to those who were respecting the two minutes' silence against the right which we all have to express ourselves freely."
He told Victoria Derbyshire "It depended on the evidence and what he heard."