Newspaper review: Papers resigned to police pay cut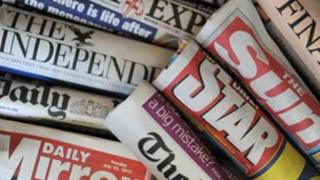 The Sun says it has every sympathy with police who are about to take a pay cut - but "we are where we are".
"Labour left Britain on the brink of ruin and cuts are being made everywhere," says the paper.
But according to the Daily Mirror, David Cameron is showing he knows the price of everything and the value of nothing when it comes to public services.
The Times says the government has no choice but to be resilient on the question of pay.
The Daily Telegraph agrees that "the time has come to reform police pay".
Town ruins
The Times talks of "carnage" in Zawiya, west of Tripoli, as forces loyal to Colonel Gaddafi unleashed their fiercest attack so far on rebels.
The paper has been told by residents: "Zawiya is in ruins."
As talk continues of a possible no-fly zone, Simon Jenkins in the Guardian argues that is just a euphemism for war - and we would be mad to try it.
"However embattled Obama and Cameron feel," he says, "they should find other paths to glory."
Travel woe
The Daily Telegraph and Daily Express lead on the disruption facing air travellers because of planned strikes by Spanish airport staff.
The walkouts, starting in the run-up to Easter, would wreck the holiday plans of families hoping to grab some spring sunshine, the Telegraph says.
The paper reminds readers that British Airways cabin crew are being balloted on further strike action too.
"British holidaymakers face travel hell," says the Express.
Unfancied horses
Most of the papers have a picture of happy punter Steve Whiteley who won £1.4m on the horses with a £2 bet.
Mr Whiteley, 61, scooped the rollover Tote Jackpot after picking all six winners at a meeting at Exeter.
The Sun quotes his reaction: "I'm not a horse-racing man, I'm a heating engineer - well, I was!"
The Daily Mail explains that most of the races were won by relatively unfancied horses - meaning he was the only winner of the giant prize fund.