UK funds £2m emergency Libya aid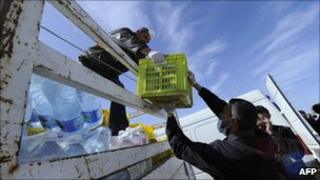 Britain will fund £2m of emergency aid to provide medical teams and supplies for people affected by unrest in Libya, the government has announced.
It will fund three Red Cross medical teams plus supplies to help 3,000 people affected by the fighting.
Food and essential cooking supplies will be given to 100,000 of the most vulnerable people still in Libya.
More than 1,000 people are believed to have died since the uprising against Col Gaddafi began three weeks ago.
About 212,000 people - most of them migrant workers - have fled the country, the UN estimates.
The government said it would also fund two International Federation of the Red Cross rapid deployment teams to ensure the supplies reach those most in need.
The announcement follows a visit by Andrew Mitchell, International Development Secretary, to the Libyan-Tunisian border last week.
He said: "The situation in Libya - both for Libyans themselves and for the many migrant workers remaining in the country - is of real and increasing concern.
"The picture is still unclear, but over 1,000 people have already been killed with many more injured."
No-fly zone
"We need to get help to those in need immediately. But we also need to make sure that we have the right supplies and people in position to be able to react to all eventualities and meet future need in Libya and on its borders."
Britain has already provided flights to help transport 6,195 Egyptians and 500 Bangladeshis back to their home countries following a request for help from the United Nations.
In the Commons on Wednesday, Prime Minister David Cameron said the UK had "led the way" in getting a tough UN resolution on Libya and on making sure the world was preparing for every eventuality - including a possible no-fly zone.
The UK and France are working on a UN resolution for a no-fly zone but Russia is opposed to military intervention. And the US has cautioned that any no-fly zone must be a UN decision with wide international support.
A no-fly zone would probably ban military flights by government forces through Libyan airspace. Any aircraft violating the exclusion zone would risk being shot down by international forces.
Pro-Gaddafi forces have been stepping up their counter-offensive and there have been reports of heavy shelling and considerable loss of life in Zawiya, which fell to rebels two weeks ago.