EuroMillions jackpot hits £68m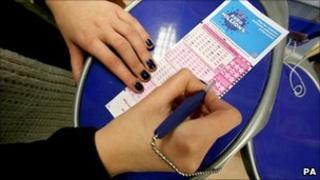 An estimated £68m jackpot is up for grabs in Friday's EuroMillions draw.
If the holder of one of the £2 tickets takes the prize, they would rank as the UK's third highest lottery winner. Last year, two anonymous winners scooped £113m and £84m on the draw.
Eight other countries participate in EuroMillions: the Irish Republic, France, Spain, Portugal, Austria, Switzerland, Belgium and Luxembourg.
Britons have banked the EuroMillions jackpot 14 times in the last two years.
The £113m and £84m wins came months after Nigel Page and Justine Laycock, from Barnsley, Gloucestershire, broke the previous record by taking a £56m prize in February 2010.
A jackpot win on Friday would see the ticketholder ranked higher on the latest Sunday Times Rich List than celebrity chef Jamie Oliver, who is said to be worth £65m.
National Lottery operator Camelot runs the EuroMillions draw in the UK. It has created about 2,400 lottery millionaires in the UK since the lottery launched in 1994.