Civil service: Warning over Whitehall pay bill rise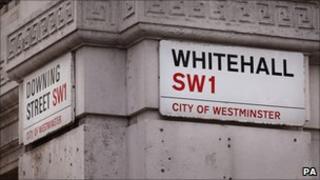 An increase in the number of middle managers means the civil service is facing a growing pay bill, the National Audit Office (NAO) has warned.
Staff numbers have fallen by 1% over the past decade, but there has been a 10% real-terms rise in staff costs, which now stand at £16.4bn a year.
A 67% rise in the numbers in middle management grades accounts for half of that increase in costs.
The report also highlighted the growth in performance-related pay.
It said this had risen from "virtually zero" ten years ago to £200m, accounting for 1% of pay.
Impact on deficit
The report said the growth in the number of managers came as junior administrative staff were being cut, with overall staff numbers falling from 497,000 to 493,000 over the ten years to 2009-2010.
This means work previously done by junior officials is increasingly taken on by more highly paid senior grades.
The NAO warned that the inability of Whitehall departments to control their staff costs could undermine the Government's attempts to cut administrative spending to help reduce the deficit.
Margaret Hodge, chairman of the Commons Public Accounts Committee which oversees the NAO, said: "It is just not acceptable for management layers and bureaucracy to build up in the Civil Service with nobody in government controlling what was happening.
"These weaknesses could hamper the government's ability to make the right choices, at a time when further cuts in staff numbers are looming."