Talks over mackerel quota row break down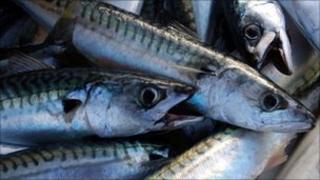 Scottish fishing leaders have called for sanctions against Iceland and the Faroe Islands in their ongoing row about mackerel quotas.
Three days of talks to try to resolve the long-running dispute have ended without agreement.
Last year Iceland and the Faroes set their own 2011 quotas, after failing to reach a deal with the EU and Norway.
Scottish ministers say they are being irresponsible about the future of Europe's "most valuable stock".
Ian Gatt, chief executive of the Scottish Pelagic Fishermen's Association, said Iceland and the Faroe Islands had been "totally unrealistic and intransigent" during the latest talks.
'Real damage'
"The move by both countries to significantly increase their already grossly over-inflated quotas is the height of irresponsibility," he said.
"It could do real damage to a stock that has been sustainably harvested and carefully looked after by the Scottish fleet."
Mr Gatt called for the EU to impose "meaningful sanctions", including putting on hold talks about Iceland joining the European Union.
"The EU must stand up for the rights of those member states already in the Union and ensure the stocks we rely on and our businesses are protected from countries on the outside", he added.
In January, the European Union signalled an intention to block landings of mackerel from Icelandic boats, after the country announced it was setting a 2011 quota of 146,818 tonnes, up from 130,000 in 2010.
The Faroe Islands - a semi-autonomous Danish territory - have not yet set their mackerel quota for 2011, but tripled their own allocation last year.
The two countries argue that climate change has led to more mackerel moving north into their waters in recent years.
The head of the Norwegian delegation at the talks, Johan Henrik Williams, said: "Things are moving. Our points of view are getting closer but the distance is still such that we couldn't reach an agreement."