Tesco recruits in Slovakia for UK jobs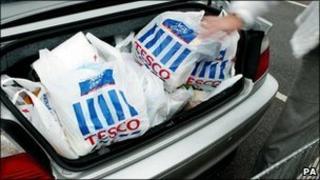 Tesco is looking in Slovakia to fill UK job vacancies because of a lack of interest locally, it has said.
The supermarket giant said the measure was a last resort when positions could not be filled within the community.
Denying it was an attempt to find cheap labour, it said all recruits were paid the same, regardless of origin.
Figures published last month showed that unemployment in the UK increased by 44,000 in the final three months of 2010 to just below 2.5 million.
A company spokeswoman said: "At Tesco we always try to recruit staff from local communities.
"In spite of intensive local recruitment drives and advertising, we can't always fill vacancies so we have to widen our search.
"It is much more expensive for us to recruit UK staff from elsewhere in Europe, and that's another reason why we only do this as a last resort."
A spokesman for Sainsbury's supermarket said the company did not look outside the UK to fill its positions.
He said: "We always look to recruit from the local area surrounding our stores.
"A large number of our store managers started in other roles within Sainsbury's and have moved into the store manager role."