Attorney general warns newspapers over contempt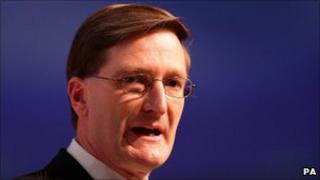 The media could be prevented from naming people arrested by the police but not yet charged, the attorney general has told the BBC.
Dominic Grieve QC may ask Parliament to introduce a ban on identifying uncharged suspects.
Mr Grieve said that pressure for a change in the law of England and Wales might grow if "frenzied" pre-charge publicity increased.
But he promised he would act only if it became absolutely necessary.
In an interview for Radio 4's Law in Action, Mr Grieve - the government's senior law officer - was careful not to refer to individual cases.
But there was considerable media interest when detectives investigating the murder of Joanna Yeates, the landscape architect whose body was discovered near Bristol on Christmas Day, arrested her landlord Christopher Jefferies.
Mr Jefferies was released after questioning and the police confirmed earlier this month that he will not be facing charges. Another man has been accused of the murder and is awaiting trial.
The attorney general said that newspapers were required by law to avoid prejudicing prosecutions.
But in some cases he said they had been acting "in a way that could be quite dangerous".
'Public disquiet'
Competition from bloggers and the internet had led newspapers to behave in a way that caused him anxiety.
"It seems to me that there was a degree of self-restraint which used to exist in national newspapers," he said. That seemed to have almost entirely vanished, he added.
Instead, there was "frenzied interest" in high-profile arrests until someone was charged or released, when the publicity abruptly stopped.
Asked whether it was necessary to tighten the law, Mr Grieve referred to recent moves in Parliament by Anna Soubry, a backbench Conservative MP, to give defendants anonymity between arrest and charge.
"There may be some merit in this proposal," Mr Grieve said. "But we did also feel that there were some potential problems. Being unable to name a suspect could cause problems for an investigation."
The attorney general said he would "mull over" whether a change in law was needed.
Asked whether such a reform was possible or practicable, Mr Grieve replied:
"It's a possibility. And I do think that if we get too many examples of publicity which appears to reach a frenzied point, causing public disquiet, then the pressure may well grow for that sort of change to the law."
'No defence'
But Mr Grieve insisted that he would be extremely reluctant to restrict the right of news organisations "to express themselves freely" unless this was "absolutely necessary".
The attorney general recently took proceedings against the publishers of the Daily Mail and the Sun after they had mistakenly published a prejudicial photograph of a man on trial for murder. He was shown holding a gun.
Mr Grieve welcomed a finding by the High Court that the newspapers were in contempt of court.
The court ruled that it was no defence for news organisations to say that jurors had been ordered not to do internet research on the background to the case they were trying.
There was a difference between researching past coverage of a case and reading daily reports of the trial online, Mr Grieve said.
This was becoming increasingly common and it was not something that he would seek to prevent.
Law In Action is on BBC Radio 4 on Tuesday 15 March 2011 at 1600 GMT and Thursday 17 March at 2000 GMT. Listen via the BBC iPlayer or download the podcast.