Newspaper review: Japan's nuclear emergency continues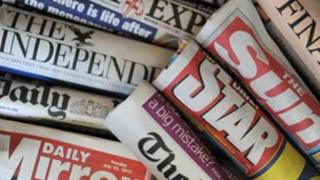 Many of the headlines make grim reading as Japan's nuclear emergency shows no sign of abating.
"Nuclear meltdown alert" says the Daily Telegraph, while the Guardian declares there is a "Race to save the reactors".
"Japan prepares for the worst", says the Independent; reported in the Mirror as "48 Hours To Stop A Nuke Disaster".
The Times quotes a nuclear expert as rating the crisis at the Fukushima plant as "worse than Three Mile Island" - America's worst nuclear accident.
'Changing their stories'
The Financial Times highlights Germany's decision to suspend its plans to extend the life of its nuclear plants while safety is reviewed.
The Daily Telegraph notes that after insisting for three days that the situation was under control, Japanese officials are no longer ruling out a full meltdown at Fukushima.
A family in the nearby city of Koriyama tell the paper's Andrew Gilligan that the authorities "keep changing their stories. They say we are safe, but we don't know what to think."
'Lazy Arabism'
The lead in the Financial Times is on the crossing of more than 1,000 Saudi Arabian troops into Bahrain to help its royal family confront protests.
The paper says the intervention in Bahrain has raised the stakes and created a dilemma for Washington.
The Times attacks what it calls "the lazy Arabism" of the Foreign Office, and urges Britain and the US to make clear to the Saudis where they stand.
The West might depend on them, but this action is "repressive" and "dangerous".
England captain
To strange goings on in the fictional English county that is home to the ITV1 detective series, Midsomer Murders.
The Daily Mail is among the papers to report that the drama's co-creator has said he deliberately keeps ethnic minority characters out of storylines.
All the papers says Chelsea defender John Terry - removed as England captain last year - is to get his job back.
The Sun suggests Terry's successor Rio Ferdinand was "humiliated" because journalists were told before he was.