Newspaper review: Japan crisis remains on front pages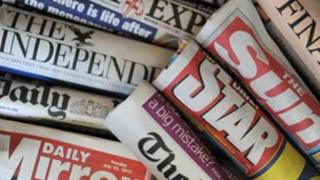 Five days on from the Japan earthquake and tsunami, most papers still devote several pages to the destruction there, as well as the related nuclear crisis.
The Times has an account of the wrecked port of Minami-Sanriku, which the reporter says exists only on the satellite navigation system in his car.
All the buildings are gone and 8,000 people remain unaccounted for, he says.
But the Daily Mirror shows a rare moment of joy as a young survivor rushes to hug a friend he thought lost.
"A nation in the grip of nuclear panic" is the Daily Mail headline - the paper says the Fukushima nuclear crisis is spiralling out of control.
The Guardian and the Daily Telegraph both have the same photograph on their front page - that of a baby being tested for radiation.
The Daily Express describes how thousands are fleeing "as damaged reactors spout clouds of radiation".
The Sun focuses on what it calls the "exodus from Tokyo" .
The conflict in Libya, relegated mostly to inside pages, makes the front of the Financial Times.
It reports that British and French officials believe the moment has passed for military intervention.
The Guardian says disagreement among European countries over a no-fly zone has gone from the merely embarrassing to the wholly humiliating .
It says once again Europe is forced to confront the truth - unless the US takes the lead, nothing gets done.
They say money can't buy love - but as the Mail points out, just under £1m will get you man's most expensive best friend..
That's how much a businessman in northern China has paid for the world's priciest dog - a red Tibetan Mastiff called Big Splash.
And the Sun and Express report on £18m UK Lotto winner Matthew Breach.
His ex-girlfriend, who was with him for 14 years, tells the papers she congratulated him by text message..