Control orders rise, says Theresa May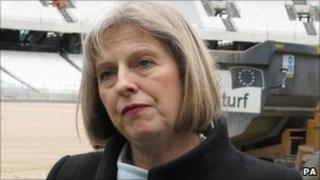 The number of suspected terrorists on control orders has increased from eight to 10, despite ministers pressing ahead with plans to replace them.
Home Secretary Theresa May said three of the 10 were living in Greater London and the rest elsewhere in the UK.
Control orders are being replaced by Terrorism Prevention and Investigation Measures (T-Pims) by the end of 2011.
Ministers say they offer more flexible monitoring of suspects but critics argue it is a rebranding exercise.
Ms May, who announced in January that control orders would be replaced, said the two new orders had been served since the last quarterly update to MPs in December.
A further order has been made but not yet served, she added.
Control orders, which place terrorism suspects under close supervision, are controversial because they have been likened to house arrest.
Electronic tags
They are used on individuals who cannot be prosecuted or deported.
As with control orders, T-Pims will require the home secretary's permission, with reviews by the High Court.
Some measures will stay, such as a ban on overseas travel, the requirement to regularly report to the police and a breach of these conditions leading to a maximum five-year jail term.
There will be limited restrictions on communications including the use of the internet, but controlees will be able to use it at home as long as they notify authorities of their password.
The measures will be limited to two years, but will be able to be extended if there is new material that the individual still poses a threat.
They will also require overnight residence of eight to 10 hours, which will be verified by an electronic tag.
Currently curfews can last for up to 16 hours.
Ms May says this change offers more flexibility than a curfew, because a controlee could stay away from their home address with permission.
But Shami Chakrabarti, director of human rights group Liberty, said control orders had been rebranded, albeit in a slightly "lower-fat" form.