Court cases should be on TV, says top civil judge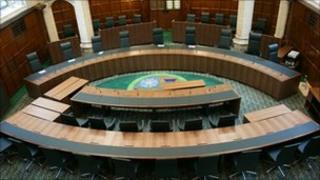 The top civil judge in England and Wales has suggested televising hearings to increase confidence in justice.
Master of the Rolls Lord Neuberger said broadcasting some cases could boost public engagement in the court process.
He said judges should have a veto over what could be shown and did not suggest allowing cameras in criminal trials.
Only the proceedings and judgements of the UK Supreme Court can currently be televised, although there have been a number of other experiments.
In a speech to the Judicial Studies Board, Lord Neuberger revisited proposals for televising courts which were last raised in 2004.
In that year, cameras were allowed to film Court of Appeal cases at the Royal Courts of Justice in London, in a pilot scheme.
The resulting footage was never broadcast and the experiment ended without agreement.
'Proper safeguards'
Lord Neuberger said it was a long-standing legal principle that justice should be done in public - but it also had to be understandable to the public.
"If we wish to increase public confidence in the justice system, transparency and engagement, there is undoubtedly something to be said for televising some hearings, provided that there were proper safeguards to ensure that this increased access did not undermine the proper administration of justice," he said.
"Such an idea would have to be looked at very carefully, and it would not be sensible for me to try and make any firm suggestions.
"But, if broadcasting of court proceedings does go ahead, I think it would be right to make two points, even at this tentative stage.
"First, the judge or judges hearing the case concerned would have to have full rights of veto over what could be broadcast; secondly, I would be very chary indeed about the notion of witness actions or criminal trials being broadcast - in each case for obvious reasons."
Lord Neuberger said there was a case for making hearings from the Supreme Court and the Court of Appeal available on a judicial version of the BBC's Parliament channel or on the BBC iPlayer.
He said Brazil's Federal Supreme Court now had a dedicated channel, TV Justica.
Lord Neuberger said he also endorsed the Lord Chief Justice's provisional decision to allow the use of Twitter in court.
"Why force a journalist or a member of the public to rush out of court in order to telephone or text the contents of his notes written in court, when he can tweet as unobtrusively as he can write?" he said.
"Whatever the outcome of the consultation, I doubt, however, that we will see the development of tweeting from the bench."
Impact on witnesses
Following the 2004 pilot, the then Lord Chancellor, Lord Falconer, said that a majority of people who had responded to a formal consultation on the issue of broadcasting were opposed to it.
However, a detailed breakdown of the results showed that respondents were actually divided.
While 55% supported a complete ban on televising criminal cases, 45% said there was a case to allow cameras in, if only for parts of a trial.
Among the concerns raised at the time was the potential impact that televising proceedings could have on victims and witnesses and, in particular, their willingness to take part in cases that many would already regard as an ordeal.
Another major concern was the potential for an "OJ Simpson effect" where a trial became a media circus.
Cameras are allowed into courts in Scotland under strict conditions, but in practice, very few cases have been televised.
The director of public prosecutions in England and Wales, Keir Starmer, said in 2009 that he was in favour, in principle, of broadcasting some proceedings.