Bahrain: Second Foreign Office-chartered plane arrives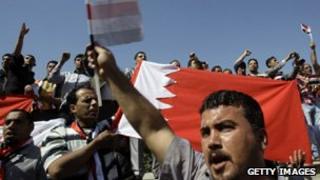 A second Foreign Office-chartered flight has arrived in London from volatile Bahrain.
A chartered plane left Bahrain empty on Thursday but there were 18 passengers on Friday's flight, 16 of them British nationals.
Remaining Britons have been told to leave on commercial flights unless they have a "pressing reason to remain".
The UN human rights chief, Navi Pillay, has condemned the "shocking" use of force by security forces.
The Foreign Office advised against all travel to Bahrain "until further notice".
The plane arrived at Gatwick Airport at 1620 GMT. There were two other "eligible nationals" on-board as well as the British passengers.
Several thousands Britons were believed to have been living in the Gulf state, which has been racked by political demonstrations in recent weeks.
At least six people have been killed and officials have imposed a curfew after the country's Sunni rulers called in Saudi troops earlier this week to try to keep order.
'Exercise caution'
The Foreign Office said Thursday's empty plane was "due to sufficient availability on commercial routes".
Updating their travel advice, they said: "As of 1500 Bahrain time on 18 March we recommend that those without a pressing reason to remain should leave.
"Travel on the main routes on the island during daylight hours is orderly if slow in some places because of police checkpoints.
"You should exercise caution in particular on any roads you use to get to these main routes and consider carefully the situation in your local vicinity before you leave.
"For British nationals wishing to leave Bahrain, the first option should remain commercial routes."
Foreign Secretary William Hague has urged all parties to enter into dialogue and to refrain from violence.