Britons flee earthquake-hit Japan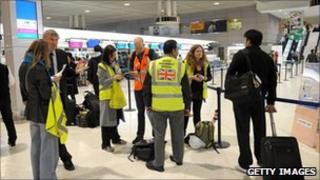 Dozens of Britons have flown out of Japan in the wake of its earthquake and worsening nuclear crisis, with more expected to follow.
Forty-four British nationals and their dependents took up seats booked by the Foreign Office on a commercial flight from Tokyo to Hong Kong.
Two government-chartered flights will be available on Saturday and coaches are on offer from Sendai to Tokyo.
It comes as the accident level at the Fukushima nuclear plant was raised.
On Friday, Japan's nuclear safety agency raised the level from four to five on the seven-point international scale for the plant, in the north east.
Britons wanting to leave Japan are being advised to use commercial flights where possible.
British nationals and their immediate families "directly affected by the tsunami" will not be charged for the Foreign Office-chartered flights.
Other British nationals will be charged £600 per adult and £300 for children up to 16. There will be no charge for those aged under two.
There will be two charter flights on Saturday, scheduled in the morning and evening.
The British government has also "block-booked" seats on commercial flights to Hong Kong over the weekend, where a reception centre has been set up at the airport.
More advice and details are available on the Foreign Office's website.
On Thursday two coaches containing 24 Britons, nine dependents and 22 people of other nationalities, left tsunami-hit Sendai for Tokyo.
The British Embassy has organised two more coaches, which left Sendai at midday local time (0300 GMT) for Tokyo, carrying 24 Britons and five dependents.
It has arranged for another two coaches on Saturday, again departing at midday local time.
It said it had no plans to charter coaches after Saturday.
The Foreign Office said British nationals in Tokyo and the northern part of the main island of Honshu should "consider leaving" the area.
'No health issue'
UK citizens have also been advised to remain outside an 80km (50 miles) radius of the heavily damaged Fukushima plant.
The British government said it had been examining what it called "worst case scenarios".
It said the most recent advice from chief scientific adviser Sir John Beddington remains that for those outside the exclusion zone set up by the Japanese authorities there is "currently no real human health issue that people should be concerned about".
The advice is kept under constant review.
The government has also said it does not plan to operate any more flights from Japan after Sunday.
About 17,000 British nationals were believed to have been in Japan last Friday but there have been no reports yet of fatalities.
A Foreign Office spokesman said it had no idea how many of the 17,000 were still in Japan or how many were still in the tsunami-affected area.
The Foreign Office continues to advise against all non-essential travel to Tokyo and north-eastern Japan but says Britons in Hokkaido and in western Japan do not have to consider leaving.
The Tohoku region of Japan's main island, Honshu, was hit by a massive earthquake and a devastating tsunami a week ago.
The disaster was followed by explosions at the Fukushima nuclear plant. The plant's reactors have continued to overheat, despite efforts to cool them and there are fears of a radiation leakage.
International Atomic Energy Agency chief Yukiya Amano flew into Tokyo on Friday and met Prime Minister Naoto Kan to discuss the Fukushima crisis.
The tsunami is also having a knock-on effect in Tokyo and other cities, with power cuts and some food and water shortages.