Prince William sees cyclone recovery work in Australia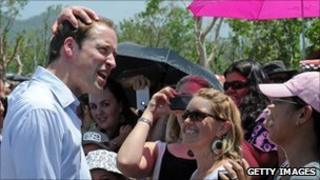 Prince William has visited cyclone-ravaged parts of Australia on a tour that has taken in areas of New Zealand devastated by last month's earthquake.
Queensland premier Anna Bligh said: "It's been almost impossible for these people, but a little royal magic is just what the doctor ordered."
The prince saw various parts of Queensland and met people affected by Cyclone Yasi last month.
The worst storm to hit the state for a century battered coastal communities.
Prince William visited the towns of Cardwell and Tully, which the category five storm devastated.
Banana and sugar cane crops were destroyed and power to more than 180,000 homes severed.
One of those he met described the terror of the cyclone.
Joyce Kanowski, 68, from Cardwell, said: "It was absolutely terrifying. It sounded like a freight train would come straight through the wall of the house. We were waiting for the walls to disintegrate and the roof to come off.
"There were roofs all over the street and fences in trees, how someone didn't die I don't know."
The prince met Red Cross worker Noelene Byrne in Tully, who may have saved hundreds of lives.
She explained:"I had a call to open two Red Cross centres on the morning coming up to the cyclone. The one centre which was Tully senior citizens' hall was an old building, a timber-structure.
"I just felt given the severity of the cyclone that was predicted it wasn't safe there. I closed that centre, transferring them to the other hall.
"The morning after the cyclone passed I had a phone call to come and have a look and it was just demolished."
The cyclone compounded misery in Queensland, where floods had claimed dozens of lives and destroyed hundreds of homes since December.
Janet Lobegeier said of the royal visit: "It lifts all the spirits of the whole town and it just lets you forget about things for a while and it's exciting, he's a prince!"
Honeymoon joke
He also travelled to the city of Cairns to pay a visit to the Royal Flying Doctor Service and meet others involved in the recovery effort.
The prince, who is making the trip without his fiancee Kate Middleton, is travelling on behalf of the Queen.
In Cairns he joked about returning to Australia for his honeymoon.
Tania Moore, who moved to Australia 10 years ago from Winchester, Hampshire, explained: "He asked me what I'd be up to today and I said, 'Oh I've been up to the Great Barrier Reef with my kids. It's just stunning - you should go there'."
She said he replied: "No I wanted too, but I won't have time."
Ms Moore said: "I asked him when he was going to come back and he said, 'well we might have to come back for our honeymoon'. Everyone started shrieking and applauding."
Speaking earlier this month, a St James's Palace spokesman said the visit had been arranged following invitations from the prime ministers of New Zealand and Australia.
Earlier, in Christchurch, New Zealand, William said the people's response to the earthquake made them "an inspiration".