Crime victims' advocate network to be established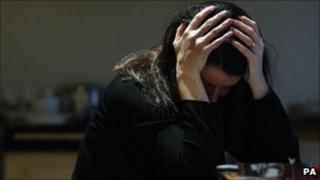 Victims of crime - and witnesses to it - in England and Wales are to be given a "louder voice" thanks to a £1m government initiative.
The new funding will be spent on setting up a network of advocates, who will hear victims' experiences and look at what support is available.
Home Secretary Theresa May says it will mean better representation for victims.
The changes come ahead of next year's introduction of locally elected police and crime commissioners (PCCs).
The first of the proposed commissioners are expected to be in place by May 2012, with the power to hire and fire chief constables.
Victims' needs
The home secretary said the advocate network would "see victims better represented at a local level ahead of PCCs who will take forward this important work from May next year".
"Crime and anti-social behaviour blights communities and can make people's lives an absolute misery, in some cases leading to tragic consequences," she added.
The network of advocates will:
Hear from victims and witnesses about their experiences through public meetings, surveys and discussions with residents in high-crime areas
Look at what is in place to help victims locally
Set out what needs to be done locally to protect and support victims
Make sure crime and policing strategies reflect victims' needs
Advise PCCs on local issues, once they are introduced.
Commissioner for Victims and Witnesses, Louise Casey, will work in partnership with Victim Support, the national charity for victims, to set up the network.
"I am delighted the home secretary has allocated funds of £1m for prioritising victims - this is a real show of support from the government," she said.
"This funding allows for the ground to be laid in advance of the arrival of PCCs to gauge what victims experiences are, what services are currently on offer and what more will need to be done," she said.
"I hope that it means PCCs will arrive with the full picture on victims' priorities and can make any changes needed quickly. I believe this will mean that, in future, victims will then have a louder voice around the table of local crime and policing, where in the past it has often been neglected."
The concept of locally elected commissioners has proved controversial.
Ministers say the planned commissioners, similar to the US system, will improve the local accountability of police forces and their chief constables.
But many chief constables are concerned elected officials will interfere in day-to-day policing, making it difficult for them to balance local duties with their national responsibilities.
Labour has claimed the coalition government is wrong to introduce them when there is such pressure on police budgets.