Newspaper review: Libya strikes dominate the front pages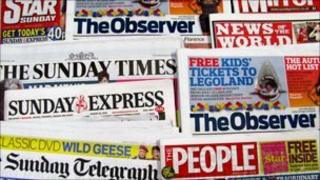 The dramatic image of a fighter jet plummeting to earth in flames adorns several front pages after the start of military action against Libya.
"It's war," declare the Sunday Mirror and Daily Star Sunday front pages.
The Observer suggests the "patience of the international community finally ran out" over attacks on the rebel stronghold of Benghazi amid a supposed ceasefire.
But Benghazi residents were baffled the West had been "duped into believing Gaddafi's false promise", it reports.
Delaying tactic
The Sunday Times is among papers reporting Libyan "frustration at the West's delay in deploying aircraft".
The ceasefire announcement was "widely seen as a tactic to try to buy time and fuel international divisions over intervention", suggests the Observer.
A Sunday Express cartoon shows Col Gaddafi, about the ceasefire, saying: "I prefer to call it 'Reload'."
Rebels say Col Gaddafi appears to have moved human shields into airports and barracks, adds the Sunday Telegraph.
People 'brutalized'
"If your country doesn't stop Gaddafi today he will kill all of us - and he will kill you too," the Daily Mail is told by a Benghazi businessman.
Injuries to his children from bombing offer "in one glance ... proof of Gaddafi's devastating cruelty towards his people", the Mail suggests.
The Independent says a no-fly zone may only blunt "the worst excesses of Gaddafi's brutality".
Ground troops, though, "are likely to cause more harm than good", it argues.
Defining test?
In the Mail on Sunday, a former speechwriter for David Cameron says this test could end up defining the prime minister.
Ian Birrell cites "Thatcher's response to the Falklands invasion" and Tony Blair's five wars ending with "messianic delusions over Iraq".
The News of the World believes Mr Cameron "has shown true leadership".
Its leader column adds: "Away from the politicking there are our young pilots. Our prayers are with them and their families. God speed and safe return."